15 Best Places to Visit in Asia
Asia is home to some of the most astonishing countries and cities. They have varied cultures, traditions, and languages of people living for centuries.
Diversity brings uniqueness to each city. There is always something new to discover and explore.
I live in India, a country where people of all religion, caste, and creed stays together. They speak a different language, eat different food, follow different customs and cultures.
Likewise, the other Asian and Southeast Asian countries and cities are so much different from each other. Traveling to these places is a way to discover their histories, stories, and so much more.
In this blog post, I shall be sharing some amazing and best places to visit in Asia that will define traveling differently.
Best Places to visit in Asia
Udaipur, Rajasthan, India
I am starting with my country. There isn't anyone who hasn't heard of Udaipur, a city of mahals and a great ethnicity located in India's western part.
Udaipur has been able to attract international and domestic tourists for years because of its cultural balance. Since it is a land of desert and dry climate, the city lacks natural beauty.
What it can offer to its tourist and travelers, no such place in the entire country can offer that.
There are a lot of places to explore, but the best places to visit in Udaipur that I would recommend are –
Udaipur City Palace
Lake Pichola
Fateh Sagar lake
If you are traveling to Udaipur, you must try their local dishes like Dal Baati Churma, Mirchi Vada, Pyaz kachori, etc.
Other than that, there are other things to explore too like local pottery making, citywalk tour, know the history of the city, etc.
Kerala, India
I can not dare to miss the southern state of India, Kerala, on this list of best places to visit in Asia. Kerala offers an entirely different experience from that of Udaipur.
If you are looking for a trip to a place bestowed with nature's beauty, Kerala is a package for you.
If you plan 5 or 7 days of a trip to Kerala, you will certainly be able to explore a lot. Kerala has a wildlife experience to offer, a stay amidst the tea plantations in the hill station of Munnar, there is backwater experience you can do in Alappuzha and a line of beautiful beaches where you can soak in sunbathe.
So, you might have got the idea why I said Kerala is a package trip for any traveler.
I have had an amazing 9 days of experience in Kerala trip where I covered almost all the touristy and a few offbeat places. I have previously written a blog post on "Travel Itinerary to Munnar," you can check out.
Tip: Do not miss going to the Kathakali center in Kochi.
Goa, India
I am obsessed with Goa, I accept. I have been to Goa thrice, and every time I came back home with a different experience. Goa is also one of the best and cheap honeymoon destinations in India.
It is a perfect weekend gateway from Maharashtra as well. Goa is extremely welcoming to international travelers.
There are no shortage of good homestays and luxury resorts. You can book your stay as per your need.
Now, why I think Goa is one of the best places to visit in Asia?
Because a trip to Goa is fun, free, and liberates you completely. There are no restrictions in doing a party, relaxation and explore the city.
Since it is a small city, you can cover and explore every nook and corner with or without a guide. (A Complete travel Guide to Goa)
Goa also has a high historical significance. The city has a great French and Portuguese influence in their culinary, culture, and tradition. Believe me, it is amazing.
Bali, Indonesia
Bali is such a place that is on every traveler's list. It is indeed one of the top places to visit in Southeast Asia. Also, one of the best honeymoon destinations in Southeast Asia.
Bali is a paradise that every traveler can explore and experience. Its cool ocean breeze, sun-kissed beaches, Indonesian culture, and tradition offers a mood-changing experience.
Be it a water sports adventure, exotic couple's body spa, or a quiet moonlit stroll on the beach; you can experience it all.
All these indeed sound romantic, and that's why couples consider Bali as their honeymoon destination. As compared to any other European places, Bali is cheaper.
Whatever experience you desire to have, Bali can give you everything. It is a go-to destination for beach lovers and for adventurers too.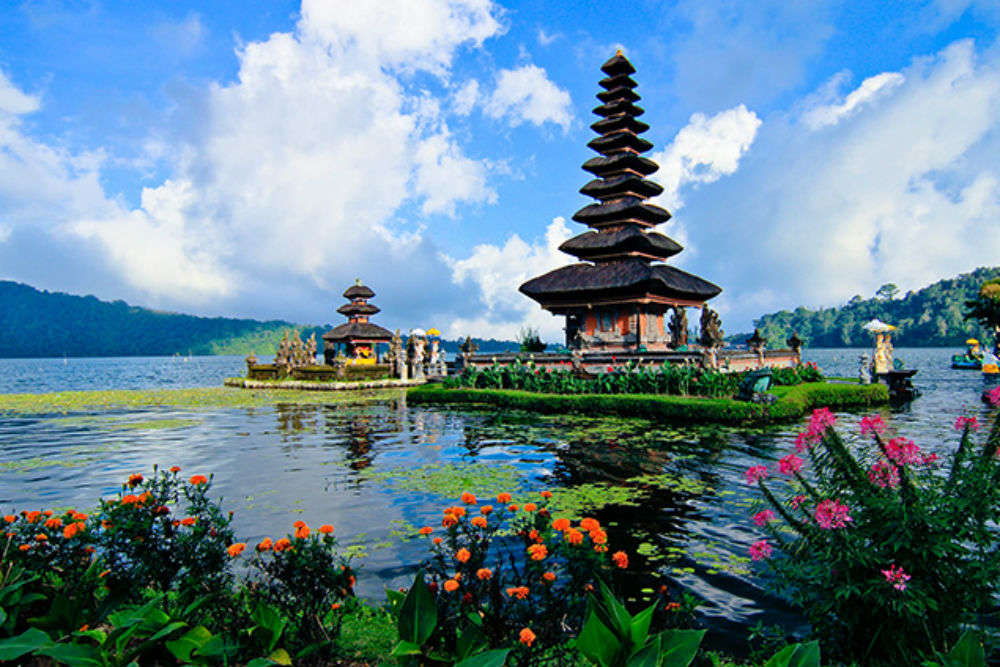 Tokyo, Japan
Tokyo is one of those cities that is on my bucket list. Japan as a country is itself one of the best to live. When we can not live, but we certainly can travel.
Like any other city, Tokyo has its own charm. It is low in crime rate, safer than the other popular cities like London, New York, etc. Though people here are super busy and considered workaholics, they are known to be happy people because they held on to their rich culture and heritage.
I don't know about others, but I am not a big fan of Japanese cuisine. People say Japanese cuisine is weird but tastes delicious.
So, if you are a foodie and want to explore the cuisine, here is a reason why you should travel to Tokyo.
Tokyo has several authentic Japanese botanical gardens like Shinjuku Gyoen National Garden; if you want to see the amazing cherry blossoms in spring, visit the Nakameguro neighborhood.
Tip: Traveling to Japan could be an issue when it comes to language, so take the help of any language translator app or a guide.
Kyoto, Japan
Yes, I am sharing another magical city from Japan, Kyoto. The city has an amazing history which is around 1000 years old. The city has a great influence of Japanese traditional culture.
There are so many incredible things to do and see in the city – you can visit the temples, zen rock garden, bamboo forest; if you have a taste bud, you can try different flavors of ramen and their traditional tea ceremonies.
Like I told you, traveling to Japan will give you an entirely different experience. It is a very welcoming country; they have rules and protocols like every other country you must follow.
Unlike Tokyo, Kyoto will give you a glimpse of a traditional city tour.
Bhutan
Bhutan is one of the safest and happiest countries to visit in Asia. This small and predominantly Buddhist nation is tucked and surrounded by nature's paradise.
Bhutan is located in the Himalayas ridges and is popularly known for its monasteries, exotic landscape, culture, and food. There is a person who said that he/she visited Bhutan and had a bad experience.
A trip to Bhutan brings a smile to travelers' faces and, indeed, in all ways, is the best countries to visit in Asia.
Nuwara Eliya, Sri lanka
Have you ever thought of considering going to Sri Lanka for a vacation?
Sri Lanka is one of those countries where you can travel budget-friendly and experience some amazing cultural and natural aspects.
If I have to answer which is the best place to visit in Sri Lanka, I would definitely say 'Nuwara Eliya.'
It is a small tea country hill station with breathtaking views of valleys and tea plantations. It is surrounded by mountains and greenery makes it a perfect place for a weekend gateway for the Sri Lankans.
There are several lovely waterfalls that visitors would love to see. It is a beautiful place to enjoy a stay at one of the British colonial structured resort.
Siem Reap, Cambodia
Cambodia is one of the most budget-friendly travel destinations in Southeast Asia. 'Siem Reap' is best known for the 12th-century temples of Angkor Wat. It is a traditional place where you can learn so much about the ancestral history of Cambodia.
It is, in fact, one of the most preferred places for history and archaeological lovers.
Dubai, UAE
I love Dubai. I have been to this city twice, and all the city's epic skylines raised my brows. The transformation of Dubai city is incredible. Once it was nothing, it is now one of the major financial and business hubs in the world. Very cosmopolitan, Dubai will give you an eye-glittering vibe.
Except for the desert, nothing is natural here. Every human-made thing is irresistibly amazing.
Also, Dubai is a great place for shopping. So, for a certain section of people, Dubai would be the best holiday destination in Asia.
Kathmandu, Nepal
If you are thinking of traveling abroad from India, Nepal is one of the most budget-friendly international destinations. It is also one of the best in Asia because it offers a unique travel experience.
Situated in the Himalayas, Kathmandu is a charming, vibrant, and economical place to visit. The city follows Buddhism, and there are several stupas, monasteries, and temples to visit that are situated amidst the white mountains.
For the adventure lovers who enjoy hours of hiking, traveling to Kathmandu will be an amazing experience.
Phuket, Thailand
Why should you visit Phuket in Thailand?
Phuket is a place in Thailand where you can enjoy yourself to the fullest. It is a perfect honeymoon destination, a destination where you can come with your friends and be an ideal wedding destination.
Phuket is a paradise, and several astounding and serene beaches are worth your time and money. From Phi Phi islands to coral island, you can explore tons of beautiful and undiscovered islands around Phuket.
If beaches are not the only satisfying reason, there are unlimited ways to experience like the local street food, explore its culture and heritage in detail, etc.
Phuket justifies all the reason to be the top places to visit in Southeast Asia.
Hoi An, Vietnam
The vibrant culture of Hoi An has made it so popular. This small town is Asia's one of the prettiest places to visit; its architecture, energetic nightlife, friendly people, and local food delicacies have transformed the town into one of the most popular ones.
The best way to explore the town is by taking a walk through the streets.
Maldives
The Maldives is one such place that has boomed its revenue only through tourism. If you want to experience staying in a villa and enjoy the water life, Maldives is for you.
Undoubtedly, a trip to the Maldives gives a laid-back time. You can take a deep-water diving session or snorkeling, enjoy swimming, water sports, and stay in the villas are the reason to visit the Maldives.
A trip to the Maldives is not pocket-friendly, but it is worth your time. I would love to go to the Maldives, but Maldives' accommodation stay costs too much, and I prefer budget-friendly travel.
Seoul, South Korea
Seoul is the capital of South Korea, a bustling city that every traveler should consider visiting. Seoul has a blend of the modern and traditional city.
Gyeongbokgung Palace is a must-visit spot in Seoul. The palace has great historical significance. You will get an amazing glimpse of Korean culture and traditions.
If you go to the National Museum of Korea, you will see 1000 years old artifacts, calligraphy, and paintings that speak about its history.
Conclusion:
These are some of the places that I believe and experience as the best places to visit in Asia. The world is beautiful, and when you out of your comfort zone to explore different places, you learn so much more about life and yourself.