Why Should Bollywood Stop Remaking Original Films
Do you like watching remake movies? Do you think Bollywood filmmakers are running out of unique stories?
I firmly believe Bollywood should stop remaking original films.
They haven't left any industry. They remake Telegu movies, Tamil movies and other regional movies too. Not only that, but they have started long ago remaking Hollywood movies also.
It seems Bollywood has become the remake-churning factory that produces quite a several remakes each year.
Producers and directors think they are paying tribute to the original movie. But they tend to forget that a story that worked a few decades or years ago, can they create the same magic and emotions in remaking the film?
Each year, I see trailers of Bollywood movies that are a remake of mostly south Indian films, and I choose not to go watch them. It's not that I haven't watched a single remake movie in the past. But honestly, I feel pity that new and unique content is dying in Bollywood.
Remaking a movie isn't considered as film making or any art. The creator watches the 'specified' movie may be more than 20 times to capture every detail and shoot accordingly by just changing new locations, backgrounds, and music.
"Ok Jaanu" which is a remake of Mani Ratnam's Tamil romantic drama film "Ok Kanmani" was a disaster. When I watch the movie a few months later online after its release, I saw how the creators and the actors failed to recreate that love and magic of the original film.
You can't impress the audience only by adding some good music in the movie. Even the songs in the film were also remade of an old popular song 'Humma Humma' of 1995.
There are many more movies in Bollywood that are remakes of either the South Indian movie industry or of Hollywood. Movies like 'Kaante' which was an adaptation of Quentin Tarantino's 'Reservoir Dogs,' 'Hum Tum' is taken from Hollywood's 'When Harry Met Sally.'
Like this, there are plenty of others where we can see how the Hindi movie industry has been remaking movies for years.
A very recent movie of Rohit Shetty 'Simmba' is also a remake of Jr NTR's film 'Temper.' Unexpectedly, 'Simmba' did a great business commercially in the box office.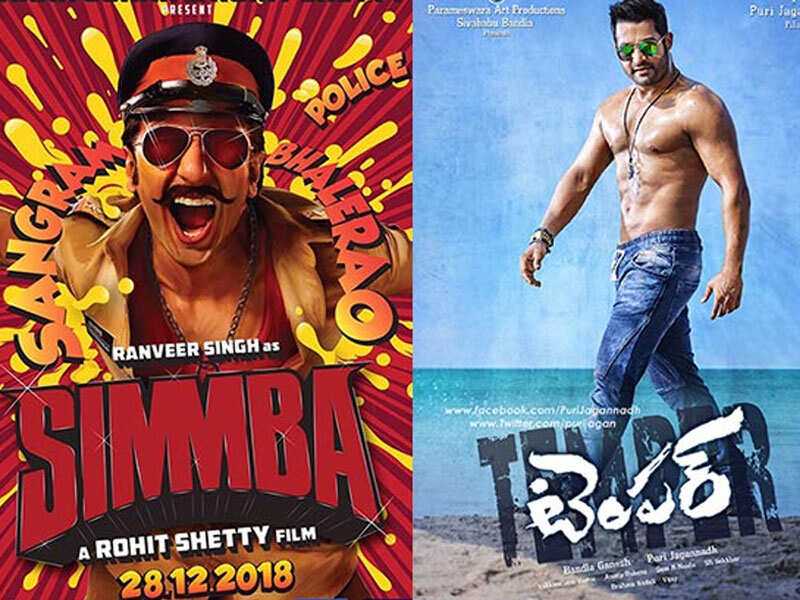 I wonder why audience like such movies? Why they prefer to invest their money in watching a film which has nothing new to offer?
Well, I am no one to judge anyone's choice. But yes I can say that many independent movies have great stories but couldn't reach the audience because they aren't promoted/produced by big production houses. Films like 'Shahid (2013)', 'Poorna (2017)', 'Aligarh (2016)' etc, should be watched. These movies get awards but are not commercially successful.
What I want to say is Bollywood should stop remaking instead invest their money and film making art in creating good and fresh content of movies.
Why remake movies fail
Movies like 'Sholay,' 'Himmatwala,' 'Karz,' 'Zanjeer,' were dreadfully failed in the box-office. Although they kept the title of the original movies but couldn't save these movies from collapsing.
Why do the directors or producers think of recreating the original in their own way?
Can we please leave the classics at least?
It's obvious, there is a reason these movies are called 'classics films,' we, the audience want to remember them as they were a decade ago.
A remake must be the best from its original version. It must connect with the audience like the original movie did once upon a time.
The creators have to think why do we still love watching the classics? What are the factors that they can incorporate in their remake movie to create that magic?
What I see in today's remake is the lost version of the original one. There is no soul in the movie.
Another example I would like to give here, the top-rated regional Marathi romantic movie 'Sairat' moved the country's young audience into tears. The film was a great hit all over the country. Even non-Marathi speaker too loved the movie.
A year later, Bollywood thought of remaking the movie. Now those who have already watched 'Sairat' know that the Bollywood version won't be as good as the original.
And it was true. Though the Bollywood version 'Dhadak' has gained mixed reviews from the audiences, for the majority, it couldn't even touch what 'Sairat' has done.
The point is the audience doesn't want remakes.
After each remake movie hit the theatres, social media platforms get filled with negative comments and opinions. The audience literally, pleads Bollywood to stop remaking original films. As a result, movies get negative results in the box-office.
Still, after a few months, you will see a trailer of another remake movie on YouTube.
Yes, it is true a very few remake movies have done exceedingly well in the box-office. But I would still ask, do we really need a remake?
For the last few years, music composers are deliberately turning old songs into remix mode by incorporating rap and medley sometimes.
The year 2019 will see many remake movies it seems. I shall come up with the list on my next blog.
Mail me or comment below your thoughts on the same. If you like the blog post, please share with others.
Feature Image credit: Dazzling.news