22 Iconic Historical Places in India That Are Worth Visiting for All
India is a diverse country that is soaked with a lot of history. The country has some great iconic historic places that define the beauty of India and its rich heritage.
I am a native of India, and for the past few years, I am on the path of exploring my country. I have been to several places now, and you can read about if you happen to follow my blog.
India has so much to cover that it takes time and proper planning.
So, this blog post is for the readers outside India who might plan a trip to India someday. When I was staying in the US for work purposes, people with whom I was a friend too often used to ask me things about India. And it feels so good to tell about the history, culture, heritage, food of India.
I figured out that western people want to learn more about India. Though they have too many misconceptions about the country, that's obvious, I believe.
So, today this blog post is for all of them. I shall be talking about 22 iconic historical places in India that you might have already heard of and want to visit.
Now, why are they so special? Let's continue reading.
Taj Mahal – One of the most popular iconic historical places in India
Everybody in the world has heard of the world's one of the most spectacular wonder, and that is the 'Taj Mahal.' It is a delicate work of art that attracts millions of tourists from across the world every year.
Taj Mahal is the symbol of pristine beauty and love. Mughal Emperor Shah Jahan built this monument in remembrance of his wife, Mumtaz Mahal.
Taj Mahal was built years ago but still, the unmatched beauty of it enthralls everyone. The architecture of the monument is a combination of Persian, Islamic, and Indian.
History says it took 22 years to complete this work of art, and it was possible with 22,000 laborers and 1000 elephants.
Both the exterior and interior of the Taj Mahal is a treat to the eyes to watch. The body of Mughal Emperor Shah Jahan was buried next to the body of his beloved Mumtaz Mahal on the western side of the tomb.
It is surely is an embodiment of true love.
Although I would want our Indian government to take measures to protect this country's treasure in a better way. Also, urging the tourists to keep the surroundings of it clean.
Golden Temple in Amritsar
If you are looking for a holy and iconic historical place in India, we have the Golden Temple for you.
This spectacular gold-coated Sikh temple in Amritsar is the most sacred place for the Sikhs. People from across the country come here to pray and volunteer.
You will be surprised to know that Golden Temple serves 50,000 free meals to everyone who comes to worship. It is like community service. You can also offer to help with the service in the kitchen.
There are open fires, rice, lentils, and vegetables that are getting cooked each day in huge quantities.
This 'Langar' was first started by Guru Nanak, the first Sikh Guru. A place and a principle that all people, regardless of caste, creed, and religion, will sit cook and eat together.
I haven't yet visited the Golden Temple. It is on my to-do list. But my father and husband both have attended, and I heard stories from them of how amazing that place is.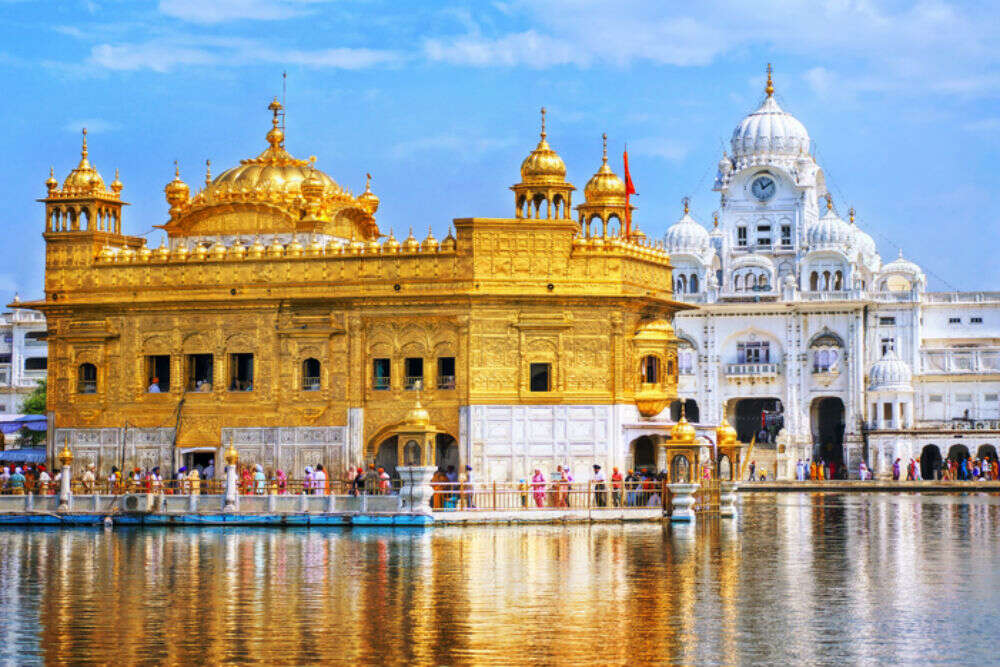 Hampi in Karnataka
Hampi is a UNESCO World Heritage site in India. Among a great many attractions, Hampi is one of the top tourist destinations in India.
During the 14th century, Hampi used to be a vibrant and prosperous kingdom of the south. It has great historical significance. It was once the capital of Vijayanagar. You can still find ruins of the architectural style of that era.
Hampi represents a collection of monuments, and each has a story to tell.
As it is now listed under the UNESCO world heritage site, it has become a popular spot for tourists.
Charminar in Hyderabad
A few ago, I went to a Hyderabad trip, and I have been to the lovely beauty of Hyderabad 'Charminar' situated in the old Hyderabad.
Charminar is yet another iconic historical place in India that is worth visiting. A monument built-in 1590. It is now a very vibrant area to explore. Tons of local shops change the view just after the evening. It is a bustling place with people shopping and wandering around.
A trip to Hyderabad is incomplete without visiting Charminar.
Note: If you want to have a good look at the monument, I would recommend you to come in the early morning.
Gateway of India in Mumbai
When you are landed in Mumbai, you should never miss the 'Gateway of India.' It is situated on the waterfront of the Arabian Sea, and it was the landing spot for the Britishers in the Bombay harbor.
When you go there, you have to remain cautious of the petty thieves. Don't give your phone and tell any random person to take photos of yours. You will find several ferry ride from the Gateway of India.
If you walk along the road, you will see a great statue of the Chhatrapati Shivaji Maharaj.
Jama Masjid in Delhi
Jama Masjid is the biggest and most famous mosque in India. The best thing about Delhi's Jama Masjid is its Mughal architecture. It was built by the Mughal Emperor Shah Jahan, who has also built Taj mahal. History says that his reign is regarded as the 'golden age' of Mughal architecture.
Jama Masjid remains one of the glorious and dignified mosques in India.
As it is situated in the Old Delhi that is extremely crowded. So, I would suggest the best time to go is early in the morning before the crowd starts gathering.
Note: Friday is the prayer day, so it gets busier. Also, one thing to be noted that because it is a religious place, you must dress decently. If you wish to enter, then cover your head and take off your shoes at the entrance.
Do not leave your shoes outside as it might get robbed. For the foreigners, do not accept the service of the local guides. As they will charge you hefty, and you can enjoy and learn about the mosque without shedding a penny.
Fatehpur Sikri
Fatehpur Sikri is another beauty from the Mughal era in the 16th century. The Mughal emperor Akbar built Fatehpur Sikri. People usually visit this place after visiting the Taj Mahal in Agra.
It has two parts – a mosque and a palace. The palace architecture is exquisite. There are different parts in the palace, like the Diwan-e-Khas, the Panch Mahal, Daulat-Khana-I- Khas, and a pond.
Indeed, it is a treasure of India that should be kept preserved always.
Note: If you are a foreigner and you want to hire a guide who will explain to you the history, choose a licensed guide. It usually is a crowded place so beware of the hawkers. Once again, wear an appropriate dress by saying this I mean covered clothes like jeans and a top/shirt, Kurti and pants.
Golconda Fort in Hyderabad
Golconda fort of the 16th century is one of the most famous forts in India. The fort is situated in a high hill, and from the top literally, the whole Hyderabad city can be seen.
Golconda fort represents the era of the Mughal emperor in India. Although the fort is in ruins now but still a worth visiting place.
From 6:30 pm, you can watch and listen to a light and sound show inside the fort premises where you will learn about the history of the Golconda Fort and how flourished the city was under the rule of Qutub Shahi.
Ajanta & Ellora Caves
The Ajanta & Ellora Caves are the UNESCO World Heritage Site, situated in Aurangabad, Maharashtra. It is one of the most significant artworks of the rock-cut monastery, Kailash temple, and Buddhism caves.
On my recent trip to Aurangabad, I was highly captivated by seeing the amazing artwork and the great Kailash temple in Ellora.
There are more than 100 caves, but only 34 of them are open to the public. I couldn't explore them all, unfortunately, thanks to my stamina.
As we read in the history that Ellora served as an important historic commercial center. The caves actually served as monasteries for the monks, temple for prayers, and a place for resting.
Both Ajanta & Ellora are India's most excellent archeological sites. During my visit, I have seen foreigners, mainly south-east Asian, were genuinely interested in learning about the iconic historic place.
Gwalior Fort
Have you ever heard of the Gwalior Fort?
I guess no. The history of Gwalior Fort starts in the 8th century. Over the centuries, the Gwalior Fort was captured and ruled by many dynasties and rulers. Gwalior is a district in Madhya Pradesh.
It is a city of ancient history, mosque, palaces, and temples. Several archeological sites and monuments are located like Man Mandir Palace, Saas-Bahu ka Mandir, Suraj Kund and etc.
So, if your interest is inclined towards watching the grand palaces and temples, then a trip to Gwalior is all you need in India.
Hawa Mahal in Jaipur
The name 'Hawa Mahal' is a widely-known spot in Jaipur. The majestic Hawa Mahal was built in 1799 with 953 windows. According to the sources, the Hawa Mahal was created for the royal women of the palace to enjoy watching the street scenes from those windows.
The Mahal has five storeys, where the three storeys are called Vichitra Mandir, Prakash Mandir, and Hawa Mandir.
The best time to visit the Mahal is early in the morning as you can not only beat the crowd but also can get good lighting for your photography.
Mysore Palace
The magnificent Mysore Palace is also known as Amba Vilas Palace. The palace looks radiant at night due to the illumination.
The most attractive feature of the palace is its architecture, which has a Rajput and Islamic influence. The Durbar Hall of the palace has a spell-bounding beauty.
And as you continue the tour of the palace, you will know why it is one of the most iconic historical places in India that are worth visiting for all.
Victoria Memorial Kolkata
Another charming historical place in India to visit and that is definitely 'Victoria Memorial' situated in the 'city of Joy' Kolkata. Victoria Memorial represents the British era in India.
The memorial was built in 1906 in the memory of Queen Victoria's long 25 years of reign in India.
Today, it is one of the most prominent European styles of architecture and Mughal domes that attracts people around the world.
The museum contains a great collection of paintings, art, and artifacts of the Victorian era.
Khajuraho
When you search 'Khajuraho' in the Google search engine, it will show you a bunch of erotic images. You may feel offended and raise a question on how it can be a UNESCO World Heritage site?
Well, Khajuraho is beyond the erotic sculptures. The temples of Khajuraho were built by the Chandela dynasty. The story of Khajuraho, according to various archeologists, begun more than a 1000 years ago.
For years actually, it was buried deep into the thick forest in central India. Later, during the British Raj, an officer found it.
I can not tell the rest of the history here. If you are on the path to explore the historical places in India, then Khajuraho temples should be first on your list.
Sanchi Stupa in Madhya Pradesh
The ancient Sanchi Stupa is a World Heritage Site and built in the time of Mauryan King, Ashoka. It contains the relics of Buddhas and small stupas.
The most enticing thing about the Sanchi Stupa is the very detailed, figurative representations of the life of Gautam Buddha and its tales.
You will find numerous stories depicted on the Buddhist philosophy. These are some of the most exceptional artworks of our history that are incredible and really worth visiting and devoting your time.
Konark Sun Temple
India's Konark Temple is another UNESCO World Heritage site and is one of the most well-known historical places in India.
The chariot shaped Konark temple was built by King Narasimha Deva I of the Eastern Ganga Dynasty. The temple was dedicated to Lord Surya (Sun).
On the body of the temple, the images of deities, people, mythological creatures, and others have been engraved.
The restoration work is still going on, which is a step ahead to preserve such sites that represent our country.
Madurai Temple
The magnificent Madurai Temple is situated in Tamil Nadu. It's a very popular temple in south India. It's a quiet spiritual place, and people come here to worship.
The architecture of the temples of south India is quite different from the rest of the country. There are artistic carvings throughout the outer body of the temple, in and out you can see and explore.
The streets of going to the Meenakshi temple are narrow and pretty crowded, so if you think that you take your car, then you might get stuck and gets frustrated.
Instead, I would recommend you reach the location early in the morning and walk around the place to explore. Although photography is strictly prohibited inside the temple, you can capture some of the paintings and carvings from the outside.
Jaisalmer Fort
The majestic Jaisalmer Fort in Rajasthan was built in 1156 by King Rawal Jaisal. The fort is exactly located far in the northwestern corner of Rajasthan.
Rajasthan is said to be the home to several Rajputs who, for centuries, have ruled and built huge palaces that have become so famous now.
Jaisalmer is a scorching, humid, and dry place so it is advisable to plan your trip during the winter when the climate remains pleasant.
So, you can visit several iconic historical places in the state of the desert itself.
Chittorgarh Fort
Chittorgarh Fort is another fantastic and massive fort to visit in Rajasthan. It has a great history of Rani Padmavati, the queen of Chittorgarh who offered herself in Juahar (self-sacrifice) alongside other women when her husband Rana Ratan Singh was murdered by the violent Allauddin Khilji.
Chittorgarh Fort is considered as India's one of the largest fort spread across 700 acres. In 2013, this Fort has been declared a UNESCO World Heritage site.
You can also check out the official website of Rajasthan tourism.
Now, don't you think that this iconic historical place should be explored by you?
Humayun's Tomb
Humayun's tomb was completed in the 1572 century and was built by Bega Begum, The wife of Mughal Emperor Humayun, to bury the body of Humayun.
The Humayun's Tomb is built with Islamic architecture, the tomb was built with red sandstone and white marble. The monument is now more than 500 years old and has been restored in the preservation work.
Qutub Minar
Qutub Minar is one of the oldest historical sites in Delhi. It is 72.5 meters long and was built in the 12th century by Qutb-ud-din-Aibak.
Among the many other historical sites in Delhi, it is one of them that you shouldn't miss if you are here.
Badami Caves in Karnataka
I am always fascinated by ancient caves and their stories. Badami caves in Karnataka are worthy of your time and visit because of its intricate rock-cutting figures and temples.
If you are going to Badami, then you can also make time to visit the Hampi.
We have read about Badami caves in our school textbooks but people don't often plan to visit such a beautiful place.
To get here, you have to plan correctly. The best way to get here would be from Bangalore, I believe. Though many people take the train from Mumbai till Solapur and then from Solapur to Badami which takes around 4 and a half hours to reach.
Or if you want a smoother ride, then hire a car from Bangalore and drive till your destination. Usually, it takes around 9 hours to reach Badami.
Conclusion
So, these are the 22 iconic historical places in India that I would recommend you to consider visiting on your trip to India. If you see, there are many other historic spots too. If you want to check out here is a link for that also.
Ask me anything about travel in India, I will try to help you out happily.
Thank you for reading and do share it with your friends and family members if they are interested.