If you are an Amazon Prime member, you have to agree with me that it has a vast catalog of some amazing movies and TV shows.
In this blog, I will be talking about the 'best TV series on Amazon Prime' to watch right now, both original and others.
Amazon Prime may not be having as much TV series as Netflix, but Prime has some great TV series content that is beyond match. And as more days are passing by, it seems Amazon Prime is giving a tough competition to Netflix.
Not only that, but you can also find great Amazon Prime Original Movies and Series in this streaming platform, which are critically acclaimed and loved by the audience.
I have done my best to compile a list of best TV series on Amazon Prime right now. The list is long, so I would request you to stick to the article until the end. And if you find it helpful, do share the link with your friends.
Best TV Series on Amazon Prime
Mrs. Marvelous Maisel
With an IMBD rating of 8.7, Amazon Prime Original series 'Mrs. Marvelous Maisel' is the best in terms of content, structure, character portrayal, and comic timing.
Set in the late 1950s' New York, Miriam Midge Maisel has a perfect life. She is living the life of her dream along with her husband and children in the New York Upper Westside in a lavish apartment.
But all went in toss when Midge's husband Joel cheated on her and left her. From here, the journey of Mrs. Maisel started as a woman who wants to pursue stand-up comedy.
Rachel Brosnahan, as Mrs. Maisel, grabs the attention completely. She is gracious, amazing, and has a great sense of humor. What I like the best about this series is the weird friendship of Midge and her manager Susie, played by Alex Borstein.
The second thing that I liked very much is the exceptional costumes and thought-provoking dialogues.
Fleabag
'Fleabag' is yet another women-centric British comedy-drama series written by the multi-talented Phoebe Waller-Bridge.
The story is based on a one-woman show where the lead character played by Phoebe herself hasn't named throughout the series.
'Fleabag' tells the tale of a young woman who has no-filter in navigating her chaotic life—all she is involved in meaningless sex and trying to cope with her past.
The audience highly praises the series for the unique execution and portrayal of the character. It is inappropriate and disturbing in depicting the flawed character 'Fleabag.'
Olivia Colman is a treat to watch. Her character as the godmother is hilarious and magnificent. 'Fleabag' has an amazing score of 100% in Rotten Tomatoes.
Parks and Recreation
'Parks and Recreation' has earned its fame for being one of the best American sitcom series.
It is a hilarious series that revolves around Leslie Knope, deputy director of the Parks and Recreation Department in the fictional town named Pawnee. There are seven seasons, and it is a very entertaining TV show streaming on Amazon Prime.
Undone
'Undone' is an outstanding Amazon prime series 2019 to watch. It tells the story of a woman who had a bad history; she lost her father in a car accident and began to hallucinate.
It's clear that she is having a mental breakdown, and over the eight episodes, the animated series shows us a part of her disturbed life.
I keep saying animated, but correctly, it is a blend of animation and live-action, adding other elements like comedy-drama and a psychological thriller.
What I love the most about the TV series is the storytelling. The amazing camerawork, the gripping script, makes it even more interesting to watch.
I would say, don't miss this TV show. It is indeed one of the hidden gems of the best original Amazon prime series.
The Boys
'The Boys' is an American superhero series which is based on the comic book of the same name, and the second season is soon coming on the platform.
The concept is new. Usually, all the superhero movies that we have seen have glamorized the superheroes.
But in this series, the story revolves around a team of superheroes who abuse their powers/abilities. To stop them, there is a team of vigilantes who fight against these superhero individuals.
The team of superheroes is being monitored by a corrupt agency that tells them what to do or not. It's different, unique, and well-scripted. The first season has quite an intense plot, and there is a thriller.
If you watched season 1, then you should watch season 2 as well that is coming on September 4.
The Man in the High Castle
The story is a dystopian history drama that has several unanswered questions. Amazon Studios produce it and it tells the story of the universe of the axis power of Nazi Germany and Japan when they rule the world after their victory in World War II.
The story and its characters will take you to the world that has a major historical significance. Set in 1962, the intense conflict between Germany, Japan, and the United States has a story to tell.
So, if you are someone who loves world history, I think you shouldn't skip this amazing series.
Sneaky Pete
Amazon Prime series original 'Sneaky Pete' is a crime series that has gained its place in the amazon prime series list among the top. The creator of the series is Bryan Cranston, whom we know as Walter White.
The series revolves around the character Marius, a con man played by Giovanni Ribisi. Marius took the identity of his cellmate, Pete, to get past his old life.
But lies can't be held for a long time, Marius is getting backfire for his lies, and he must protect his identity.
The content is engaging and crisp, portraying the character Marius perfectly. However, I like season 1 more than the other seasons. But you can watch it.
Tom Clancy's Jack Ryan
If you want more entertainment and action thriller, Amazon Prime has an amazing web series to offer 'Tom Clancy's Jack Ryan.
John Krasinski played the titular character Jack Ryan, who is a financial analyst working for the Central Intelligence Agency for the T-FAD department.
Leaving his desk job, he enters into the field analysis where he is after an Islamic extremist named Suleiman, who has a bigger plan of terrorism. This is pretty much is the story of season 1.
Season 2 deals with political warfare where we see Jack Ryan involved in a gunfight and action.
Why should you watch it?
Well, the TV series has great focused content with a blend of political thrill and action. John Krasinski, as Jack Ryan has performed amazingly.
Young Sheldon
'Young Sheldon' is the prequel to the popular American sitcom 'The Big Bang Theory.' It begins with the titular character Sheldon Cooper who is a born genius, and at the age of nine, he is promoted to high school.
The series depicts the life of young Sheldon, who struggles to fit in his family of normal and people of his age. If you have watched The Big Bang Theory, watching 'Young Sheldon' would be even more entertaining.
Since there is no connection with the sequel, the series pretty much explains the childhood and the academic adventures of Sheldon Cooper.
You can also watch the series on HBO Max in the coming September.
The Terror
If you are looking for horror series on Amazon Prime, you can watch 'The Terror' set in World War II; the story revolves around a series of unusual deaths.
It is a fascinating series where Royal navy's two ships Erebus and Terror, are heading towards an uncharted island, but their ships soon get stuck and frozen.
With limited food sources, surviving in the extreme harsh climatic condition alarms everyone. It's a terrifying, suspense drama series that will keep your attention intact till the end.
If you love horror movies, in fact Amazon Prime has a wide range of horror movies too.
Killing Eve
I have watched 'Killing Eve' on Amazon Prime, and it's an outstanding black comedy series to watch. The TV show is so popular because of the performances of both the female actors Jodie Comer and Sander Oh.
It's not surprising that both the actors have been nominated several awards for their excellent performances.
The series is addictive, and it follows the character Eve, a British intelligence investigator who is seeking to capture a psychotic assassin killer named Villanelle.
The story revolves around both the characters engaging narrative.
Villanelle and Eve are two obsessive characters for each other's skill, power, and sexuality. The shows expose both the character's personalities and virtues.
It's addictive like I mentioned above; more than that, it's women-centered and delivers a unique plot.
Modern Love
'Modern Love' is Amazon Prime romance series that is based on the weekly column published in the New York Times.
Several stories talk about love, sexuality, platonic, and so on. It talks about different love stories that are taking place in New York City.
Though the TV series version of the New York Times 'Modern Love' might not be the best for many.
Specifically, if you are fond of cheesy romantic comedy stories and obsessed about the NY city, this series could be your favorite.
Suits
With an amazing IMDB and Rotten Tomatoes score, 'Suits' is an American legal drama series created by Aaron Korsh. It has a massive nine seasons started back in 2011, follows men in suits set in a NY law firm.
They have the city's smartest top corporate lawyers Harvey and Michael, who solve all the high-profile lawsuits. There is also Meghan Duchess of Sussex, who played Rachel Zane, and Sarah played Donna.
Breathe
Breathe is the best Indian TV series on Amazon Prime India that follows a very sentimental story of a single father who fights to keep his ailing young son alive.
The show depicts how a father played by R. Madhavan begins with committing a crime to keep his son alive.
It is a suspense thriller crime drama series that is super engaging, and all the actors have performed brilliantly—more than that, it has a very well-scripted story leaving no gaps for mistakes.
So, there are great Hindi TV series too in amazon prime that you can watch too.
I don't want to disclose the story of the series because I was hoping you could watch it and evaluate it.
The Family Man
Manoj Bajpayee, starring in 'The Family Man,' is another best TV series on Amazon Prime India that you should consider watching.
It follows the story of a middle-class man Srikant Tiwari who is a family man as well as a secret spy works for the National Intelligence agency.
The show depicts his struggle to fit in both the roles, as a spy and maintaining a balance with his family responsibilities too. It is a super engaging TV series that has thriller, a bit of action, a light romance, and spy/terrorism part.
Manoj Bajpayee, as Srikant Tiwari, the leading character, has nailed through his performance. Apart from the performances, the screenplay, camerawork, and perfect execution make this series one of the best.
The Office
Who doesn't hear of 'The Office'? It is one of the most popular American mockumentary sitcoms that depicts the everyday work lives of office employees in a fictional Paper company.
The documentary-style is hilarious, annoying, and poignantly foolish. This superhit sitcom chronicles the office hours and how each employee behaves during the time.
'The Office' is still streaming on other platforms, Netflix, which also has achieved a milestone in terms of viewership.
With over 200 episodes, it still manages to make you laugh at silly jokes and situations.
Steve Carell, as the weird manager Michael Scott has given the best performance of his career.
Even the supporting casts too maintained a perfect balance in delivering their best performance.
The Big Bang Theory
I have mentioned 'Young Sheldon' in this list of best TV series on Amazon Prime. With 'Young Sheldon,' if I miss 'The Big Bang Theory' I would be making a grievous mistake.
The sitcom is equally loved by the audience and ruling even now. It follows the lives of four nerd friends Leonard, Sheldon, Howard, and Raj, who loves science and any scientific adventure.
The four of them are socially awkward and don't like to get mingle in a group.
But their life takes a turn when girls entered their life. Can the four genius and nerd individuals learn outside science?
For years, in fact, 'The Big Bang Theory,' 'The Office,' and 'Friends' are ruling the sitcom genre.
Bates Motel
Bates Motel is one of the best psychological horror series that has ever been created.
The series is highly inspired by Alfred Hitchcock's classic 1960s' film 'Psycho.' The series follows the lives of mother and son Norma and Norman Bates.
The series begins in Arizona, where after an incident both Norma along with her young son Norman moved to the coastal Oregon town and bought a motel.
Soon after she bought the motel, she finds out that the highway passing through the motel is becoming invalid that means no business for the motel.
The lives of Bates go through a series of personal issues, and one of the major issues is the mental illness of Norman Bates, which Norma always ignored.
Slowly Norman becomes extremely vulnerable. The series is a complete five seasons long, and it is scary, suspenseful, and an amazing series to watch.
Hunters
Amazon Prime original series 'Hunters' is a historical drama focusing on a group of Nazi hunters who are Jews in New York City in 1977 trying to kill all the conspirators who are planning a new genocidal in the US.
We see Al Pacino as Meyer Offerman, who has formed a team of Jews and are now the secret Nazi hunters. Logan Lerman, as young Jonah after his grandmother's assassination he joined the team.
'Hunters' is a great binged watchable series on Amazon Prime. It is a mix of suspense-thriller, action, and history.
It's great to watch Al Pacino onscreen after a long time. It's a bit intense story, so you have to pay attention to the details.
Made in Heaven
Previously I have mentioned two great Hindi TV series that you can stream on Amazon Prime.
Now I am recommending another decent series 'Made in Heaven'; it follows the lives of two wedding planners Tara and Karan, who run a wedding planning agency named 'Made in Heaven.'
With each high-profile marriage ceremony that they are arranging, they get a glimpse of the true picture of the reality.
All the high society's so-called marriages and their relationships are vague and dirty.
The series deals with several social issues along with the complex lives of the two characters.
Why should you watch it?
I would recommend watching 'Made in the Heavens' only because of the concrete storyline.
World's Toughest Race
Just a few days ago, I finished watching the adventure TV show 'World's Toughest Race' on Amazon Prime which is hosted by Bear Grylls.
The show is terrific and extremely challenging. The series document an ultimate expedition race where 66 teams of four individuals from different countries have to run, climb, hike, bike, boat across hundreds of miles of rugged terrain, dense forest, and water bodies.
It is interesting and inspiring to watch all the teams trying to complete the race overcoming physical and mental challenges. This TV show is different, and I think you should watch it.
Bandish Bandits
Bandish Bandits is one of the most beautiful musical dramas show on amazon prime that tells the story of two singers Radhe, who is a trained classical singer and Tamanna, a YouTube pop singing sensation.
Set in Jodhpur, when the two individuals met, they set out a journey together of self-discovery. There is also a typical family drama angle in the plot, which involves the family of Radhe.
His grandfather is a great classical singer of Jodhpur, and people call him 'Panditji.'
Pandit seeks in Radhe his singing heir, but to achieve the family singing legacy, Radhe has to earn it through a tough exam of music.
The best part of the series is the ending. It's unique, and if you love music, especially Indian classical music, you will adore this series.
Mr. Robot
Rami Malek as Elliot Anderson in the thriller drama series 'Mr. Robot' is a cybersecurity engineer who works for an MNC and becomes a vigilante hacker by night.
Elliot is suffering from anxiety, and clinical depression got recruited by someone named Mr. Robot.
Can Elliot work as a vigilante for the betterment of the world while fighting back his depression?
The show has a dark theme and explores the psychological aspects of Elliot as a hacker who wants to change the world for good.
This is Us
'This is Us' is a beautiful comedy-drama series that is about three siblings and their parents showing their stories in different timelines of past and present.
It shows the lives of Kevin, Kate, and Randell, the three siblings, their struggles, and happiness at different intervals of their life. It's a heartwarming TV show showing us the moments of the Pearson family.
It's a worth amazon prime series to watch.
Hanna
If you want more intense action thrilling entertainment on amazon prime, then I have 'Hanna' for you.
It is based on the 2011 action drama novel of the same name that follows the story of Hanna, an extraordinary sharp 15-year-old girl who has been raised in the forest by a CIA agent whom she considers as her father.
A CIA program named UTRAX is after Hanna for a very long time. In the second season, it shows Hanna is super trained by her father, who is killed by the UTRAX team, and she now wants to save her friend.
Season 2 is more focused on what does the secret program UTRAX do and what purpose do the girls serve.
'Hanna' has some amazing outdoor scenes where it has been shot. Also, the action sequences performed by Hanna played by Esme Creed-Miles is outstanding.
Malgudi days
R.K. Narayan's 1986 'Malgudi days' is a classic everyone's favorite TV series that is based on the 1943 short story collection of R.K. Narayan.
It follows the adventures of Swami and his friends living in the small town of Malgudi, where people lead a rustic and simple life without any regret.
You must watch Malgudi Days.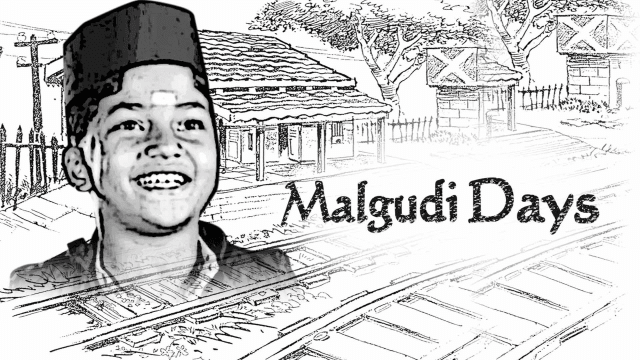 Upload
'Upload' is a science fiction drama series that creates a unique concept about technology-driven future.
As of now, the series has only one season, which is very much interesting and content-driven, where the protagonist Nathan had an accident and chose his afterlife to upload in a digital cloud making program.
It is a program that allows dying people to relive their life on the other side that is fully technology upgraded.
The concept of the series looks interesting because of the current state of the world, where we all are so much dependent on technology now.
The season 1 left ended with some unanswered questions. I am expecting another season to come.
Absentia
You can also watch 'Absentia,' a thriller drama that follows the story of Emily Byrne, played by Stana Katic, an FBI agent who mysteriously disappears in the middle of an investigation and confirmed dead.
But after six years, we see her alive, but all her memories are gone.
'Absentia' has an intriguing storyline that adds up a lot of suspense and thriller. What happened to Emily? Where did she disappear? How did it happen? What happened to her memories?
You will get all the answers when you start watching the series.
Bosch
With an amazing IMDB and Rotten Tomatoes score, the police procedural series 'Bosch' is an incredible Amazon Prime series to watch.
Harry Bosch, who is a homicide detective and the series revolves around him. His investigations of different cases and there are some twists in the plot that involves him being the prime suspect of a murder.
It is one of the best TV shows to binge-watch on Amazon Prime.
Carnival Row
Set in the Victorian fantasy world, where human beings coexist with mythological creatures. The creatures are forbidden to live freely, and chaos begins.
There are social issues that the creatures are facing. Amid everything, Orlando Bloom, who plays a human detective, rekindles an affair with a refugee faerie.
I find a great many similarities with the modern-day world with the theme of the series. There is a question of equality, tolerance in the society that the show revolves around.
Since it is a fantasy genre TV series, so only the audience who loves this kind of genre will surely love. What impresses me the most in the series is the visual setting.
Conclusion:
Thus, these are my recommendation of 30 best TV series on Amazon Prime to watch and get entertained.