14 Best Telegu Movies to Watch on Amazon Prime
Streaming platforms like Amazon Prime, Netflix, and Hotstar are a great relief for a movie buff like me. Not just they provide great content of English and Hindi movies, but also regional movies are now available in ample.
I believe in good quality of movies. It can be comedy, tragedy, suspense-thriller, or drama, but the content has to be good enough to make me feel that the time hasn't gone wasted.
In my previous blog posts, I have written articles on different movie categories. You will find a great many lists of movies in Hindi, Bollywood films, TV shows, Marathi movies and etc.
Since the lockdown has started to reduce the socializing of people due to Coronavirus. I am enjoying binge-watching movies and TV shows on Netflix, Amazon Prime, Hotstar, and ZEE5.
In fact, everybody is looking for movies and TV shows to watch at home in this lockdown period. I am going to list down the best Telegu movies to watch on Amazon Prime.
So, this blog post is for them who often search for Telegu movies.
I will only mention the movies that I felt are worth watching Telegu movies on Amazon Prime.
K.G.F: Chapter 1 (2018)
My husband is a big K.G.F fan, and he might have watched thrice, and I had to accompany him all three times. It sucks but perks of being happily married too.
An epic film like Bahubaali, that got thumbs up from almost all over India. A film that is larger than life, visually quite impressive, phenomenal stunts and fight scenes. Not only this, but it also has an outstanding sound design along with one lead actor.
The character Rocky is a brave and charismatic personality, who is hardly seen speaking in the entire film. The narration has beautifully used his recollected childhood memories that tells itself the story.
Yash as Rocky has a fabulous screen presence, and his actions are partially the reason why the audience still like watching this film.
The makers have already declared that K.G.F: Chapter 2 is coming.
Dear Comrade (2019)
'Dear Comrade' is the next best Telegu movies to watch on Amazon Prime. It is one of the much-loved films of Vijay Deverakonda after 'Arjun Reddy.'
The movie portrays a character Bobby (Vijay), who is a student prone to anger, gets involved in fights frequently. He is the face of the college student union, whose ideologies are similar to his rebellious grandfather.
But our hero falls in love with Lilly (Rashmika Mandanna), a sweet and beautiful relationship develops gradually between the two. Soon, all is not well in the lover's paradise.
'Dear Comrade' is not an entirely love story; instead, it shows Bobby's gradual character transformation and journey towards redemption.
I feel Vijay Deverakonda likes being stepping on this kind of role.
Arjun Reddy (2017)
'Arjun Reddy'- a story of a clean shaved medical college boy who fell madly in love with a girl, but loses his love and immersed deep in alcohol addiction.
There has been a lot of controversies that went on when Bollywood created 'Kabir Singh', a remake version of 'Arjun Reddy, for portraying the protagonist a male chauvinist and showing slapping and abusing in love is okay.
But if you notice and understand the character, he has been shown as a flawed personality who thrashes himself of self-pity and guilt.
It is the passionate Arjun Reddy that we loved watching onscreen. The entire movie is driven by the superb acting skill of Vijaya Deverakonda.
RX 100 (2018)
Yet another Telegu not so typical romantic film. A city-bred girl who falls for the macho village boy and sparks evolves between the two.
The film is set in a village in Andhra Pradesh, the protagonist Shiva is young, arrogant, fights, smoke weed and drives an RX 100. Shiva reminds me of Arjun Reddy, the only difference lies here is Shiva is a village lad.
Heartbroken Shiva fights until his last breath. I felt a bit repetitive with the fighting sequence. The first half of the film is endearing to watch where a passionate one-sided love story can be seen more.
Sarileru Neekevvaru (2020)
Mahesh Babu is always a treat to eyes. In this film, his cool body language will take you back to his old movies.
Mahesh Babu, as an Army major, attends his dead colleague's family, where he found that Bharathi, a medicine professor, is being tortured by a goon-turned- politician.
What happens next?
Of course, with his action and wit, he saves the family of Bharathi from her troubles. More than the story, the film has a comic angle to watch; the songs are peppy just like any other Telegu film, and so does the dance moves.
The film has no dull moment that I can remember. So, a worth watching entertaining Telegu movie to watch on Amazon Prime.
Rangasthalam (2018)
I am not a fan of watching Ram Charan's movies, but when I watched his Rangasthalam, I am compelled to accept that he is a good actor.
The story takes place in a fictional village named Rangasthalam in Andhra Pradesh, where Chitti Babu (Ram Charan) lives a peaceful and happy life doing agricultural work. He is partially deaf but not by conscience.
The chemistry of Samantha and Ram Charan is excellent, and both performed really well. Prakash Raj has probably given too many repetitive roles in his career as an MLA, so he has to give a better performance that he did.
You can enjoy watching the first half of the film, especially for Chitti Babu. It is not a regular mass film but a good one to stream on Amazon Prime during the COVID-19 lockdown.
Jaanu (2020)
I watched 'Jaanu' yesterday night, and I find this movie unique in a way, it is a tale of unspoken love between two people who are in love since their school days but met after 17 years in a reunion party of their batch.
It is a movie that involves a conversation between two lovers who want to cherish their memories and pain of not having each other.
The male lead Ram is a travel photographer and extremely shy in expressing his emotions to Jaanu, but Jannu leads him always. They have unconditional love for each other, but they weren't destined to be together.
'Jaanu of 2020 is a beautiful remake of Tamil hit film 96.
Both the actors have done justice to their characters, especially Samantha's ability to express her suffering of unspoken love is superb.
Notably, the songs are melodious and pleasant to listen to. So, you should consider watching 'Jaanu' one of the best Telegu movies to watch on Amazon Prime now.
Maharshi (2019)
Yet another movie for the Mahesh Babu fans on Amazon Prime. The protagonist Rishi, who is the CEO of a reputed company, returns to his hometown to reconcile with his best friend.
Meanwhile, a social crisis emerges where he takes the responsibility of doing the groundwork, i.e., farming.
Maharshi conveys a good social message. There are flaws in the screenplay indeed but who cares, if you are a Mahesh Babu you are going to like it.
There is a song 'Padara Padara' where his journey in recognizing the importance of farming is vividly shown.
Ye Maya Chesava (2010)
Naga Chaitanya, as Karthik, is an Engineering graduate who wants to become a filmmaker, falls in love with Jessi (Samantha) daughter of a Christian family.
Both her being two years older and different religious backgrounds pushed her from accepting Karthik's love. After her family arranges her marriage within their religious belief, she escapes.
Fast-forwarding their life, Karthik reaches the USA, where he started directing his film named 'Jessi,' his own love story. There he meets Jessi again, but will she accept his love now?
It is a simple love story where you know what will happen in the end. Still, the chemistry between the two and their expression of pure love will make you watch this movie with your spouse at home.
Especially if you are a newlywed couple.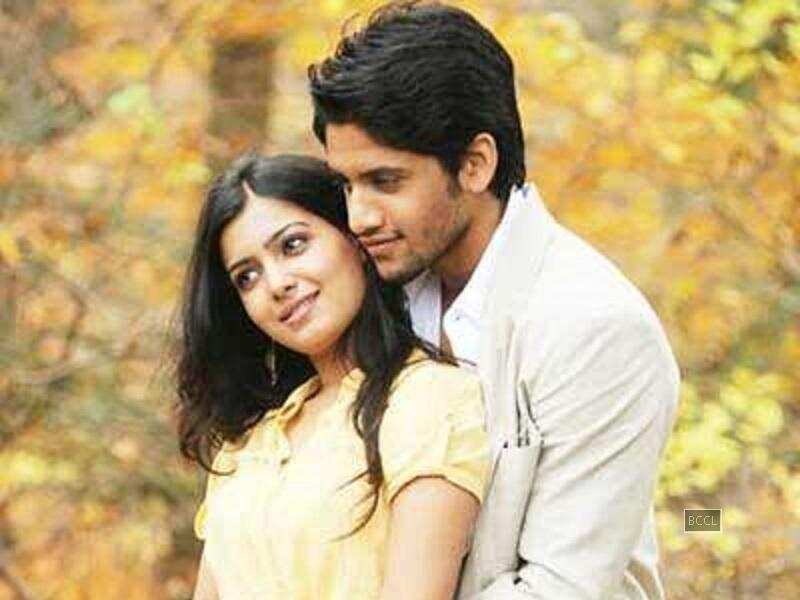 Padi Padi Leche Manasu (2018)
Set in Kolkata, where our hero Surya stalks Vaishali. Sai Pallavi always brings grace to a film. Her smile and her natural beauty always lift a movie to a positive note.
Romance in the city of tram and narrow lanes with Vishal Chandrashekhar's soothing music adds mirth in love-filled scenes.
Though there is a lack in compactness of narration. Everything seems very beautiful, their emerging sweet love, the setting, and heart-warming songs, which is enough to make you love the film.
Happy Days (2007)
If you watch 'Happy Days' now, I am pretty sure it will create a nostalgic moment for you.
It is a pleasant story of boys and girls who are in college, their friendship, love, hatred, happy days, sorrow moments. At every step of college days, they are always there for each other.
We all have had a wonderful time during our college days, we have created a ton of worth memorable recollections with friends that used to be a family.
I watched 'Happy Days' years ago when I completed my post-graduation. While watching the film, it did make me nostalgic; it made me called all my close friends of college days with whom I used to hang out and shared happy and sorrowful moments.
If you haven't yet watched this film, do not skip it.
Mahanati (2018)
The movie 'Mahanati' is a biopic on the legendary and veteran actor Savitri, who had once ruled the Telegu and Tamil industry.
The story is being narrated by Madhuravani (Samantha), a journalist struggling to find her place in a male-dominated industry. She is given a piece to work on the life of Savitri about whom she narrates.
The film focuses on the marital disharmony between Savitri and Ganesan (Dulquer Salmaan), also on the rise and fall of her career.
Ganesan's being an unsuccessful actor and Savitri being at the top was one of the reasons for causing a rift between them.
'Mahanati' is one of the best Telegu movies of this time that you should watch. Even if you don't understand Telegu, there is subtitle available on Amazon Prime.
So, it won't be difficult to understand the plot and characters of the film.
Majili (2019)
Yet another film of Samantha and Naga Chaitanya on the lead role. Critics say that 'Majili' is Naga Chaitanya's best performance so far.
If you watch the film, you will notice that it has several layers of meaning and issues that discusses through the character Poorna.
Poorna (Naga Chaitanya) is an aspiring cricketer who falls madly in love with Anshu, but circumstances didn't allow them to be together. With time he becomes an alcoholic that helps him to numb his pain.
When his life fails miserably, he marries his neighbor Sravani who loves him deeply and believes him. The character Poorna is a complex personality whose heart is filled with pain and internal conflict of relationships.
A gripping movie to watch that explores the not so happy love story.
Darbar (2020)
Rajnikant's 'Darbar' is only meant for Rajnikant fans. It is a full masala typical Rajnikant film. The make-up is spot on, no one can guess the actual age of his.
It is a simple story where legendary Rajnikant is playing the role of a cop who has been assigned the task of eliminating the city's drug mafia.
'Darbar' is exactly what you are thinking of, a lot of unimaginable jumpy stunts that are only possible in Rajnikant's action, his bigger than life image.
Above all, he has proved that his age hasn't slowed him down a bit. He is still energetic and fit to be cast in films with full of actions.
Conclusion:
So, these are the Telegu movies that you can stream on Amazon Prime in the lockdown in India.
You can suggest me a few good Telegu films too that I can watch.
The world is going through a hard time where thousands are dead already and dying daily.
Let's all pray and stay home as much as you can. Do not let the virus spread.
Thank you.