In my last blog post, I wrote about the best Tamil movies on Amazon Prime to watch. In this blog post, I shall be sharing the best Tamil movies on Netflix India to watch.
The Tamil film industry is one of the most popular in India after Bollywood. Though I merely understand the language, thanks to the subtitle feature that makes it so easy to understand a Tamil movie for a non-Tamil speaker like me.
You might have seen that there are several movies in Bollywood that are a remake of either Tamil-Telegu-Malayalam movies.
The Tamil film industry has several great actors who have been dominating the industry for a long time for their good acting skills.
Actors like Dhanush, Kamal Hassan, Rajinikanth, Vijay Sethupathi, Madhavan, Prakash Raj, and many popular actors have done some great movies.
Netflix is a platform that is an opportunity for several small budget producers and directors. Their movies can now get a direct release on Netflix.
So, on this list, I have curated 13 best Tamil movies on Netflix India that you can start watching this weekend.
Best Tamil Movies on Netflix India
Super Deluxe
IMDB Rating: 8.4
Director: Thiagarajan Kumararaja
"Super Deluxe" is one of the widely appreciated movies of Vijay Sethupathi. A film that brilliance in filmmaking, acting, screenplay, and in the storytelling of the poignancy of the characters.
Vijay Sethupathi outshines in delivering his performance. In the film, director Kumaraja is narrating the stories of different people who have difficulties in their lives.
The first is the story of a married couple Vaembu, Mugil, and Berlin, a corrupt police officer. It explores the story of a failed marriage with a murder twist.
The second story explores a slice of life of Shilpa, a transgender person who is married and has a son Rasukutty. Both the son and the wife are longing for her return. The story shines a light on the fact of how our society doesn't accept a transgender person and society's behavior towards them.
The third story plot is about four friends who get trapped in a whole new world. The fourth story talks about Leela, a former porn star, and her fight with survival.
All the four stories in the movie are showing us the darker side of the characters. Without a doubt, 'Super Deluxe' is one of the best Tamil movies of recent times.
Recommended:
Visaranai
IMDB Rating: 8.5
Director: Vetrimaaran
Vetrimaaran's 'Visaranai' is a powerful representation of corruption in the system. The movie doesn't intend to give any social message; rather, it shows the audience the dirty politics of the system.
The story follows four laborers; their life soon turned into a nightmare when they are caught by the police for a theft that they did not commit. To confess, they are got beaten mercilessly by the cops.
The movie demonstrates the police brutality under the influence of the system's inner circle. I would recommend watching 'Visaranai' as it is the best Tamil movies on Netflix.
Recommeded:
Sillu Karrupatti
IMDB Rating: 8.2
Director: Halitha Shameem
Sillu Karrupatti comprises four stories 'Pink Bag', 'Kaaka Kadi, 'Turtles, and 'Hey Ammu.' All the stories have the same theme of love and companionship.
The portrayal of love in each story among different people is what 'Sillu Karrupatti' about. All the stories are interlinked with each story with a common theme 'love.'
Not the best but definitely a one-time worth watch Tamil movie on Netflix.
Recommended:
Game Over
IMDB Rating: 7.1
Director: Ashwin Saravanan
Game Over is a brilliant psychological thriller film that got released in 2019. The movie is multi-layered and highly concept-oriented, packed with a thrill at every scene.
The story revolves around only two characters Swapna (Taapsee Pannu) and her caretaker. Swapna is a video game tester/designer with a dark traumatic past that has put her into a wheelchair. She gets a panic attack, and she is afraid of darkness.
The use of the video game as a theme of layered meaning is brilliant. Taapsee Pannu's effortless performance as Swapna in the movie is something that has held me until the end.
The writing and filmmaking are highly appreciable too. The film got dubbed in Hindi too.
Mersal
IMDB Rating: 7.7
Director: Atlee Kumar
Mersal is an action thriller film featuring Tamil star Vijay, Kajal Aggarwal, Samantha, and Nithya Menen. Vijay plays the role of a twin brothers Maaran and Vetri, where one is a doctor, and one is a magician.
The plot gets interesting with both the characters that Vijay plays effortlessly, and both join their hands to find out the culprit who is behind their father's murder.
Vijay's starring 'Mersal' is a film that offers you everything drama, revenge, songs, and action.
The film is commercially successful and became the fifth highest-grossing Tamil language film.
Sarvam Thaala Mayam
IMDB Rating: 7.6
Director: Rajiv Menon
I cannot deny the fact that almost all the Tamil movies have a rich musical composition, and if it is by A.R. Rahman, that adds a touch of brilliance into it.
'Sarvam Thaala Mayam' is the latest musical flick that follows the musical world of Vembu Iyer, a Mridangam player. The movie has a simple story, and it has garnered a positive response from the audience and the critics too.
Solo
IMDB Rating: 7.1
Director: Bejoy Nambiar
The 2017 Tamil movie 'Solo' starring Dulquer Salman in the lead role follows the story of four different people, and their story revolves around the four elements of the Earth – Earth, Fire, Wind, and Water.
Dulquer Salman plays a different role in each story: Shekhar, Trilok, Siva, and Rudra. Each story resembles the different manifestations of Lord Shiva.
The movie is also dubbed in Telugu as Athade.
Merku Thodarchi Malai
IMDB Rating: 8.6
Director: Leninbharati
The next one of the best Tamil movies on Netflix is Vijay Sethupathi's production movie 'Merku Thodarchi Malai.'
The story follows the hard lives of landless workers living in the foothills of the Western Ghats in India.
Rengasamy is a daily wager who makes money by carrying sacks of cardamom from the mountains to the foothills of the Western Ghats in Tamil Nadu.
He wants to buy a small piece of land for farming but get disappointed by several rejections and dispute with the estate owner.
The movie mainly focuses on the downside of industrialization that has hit hard on the lives of a countless daily wager.
Recommended:
Power Paandi
IMDB Rating: 7.6
Director: Dhanush
'Power Paandi' is the directorial debut film of Dhanush released in 2017. The story revolves around a retired ex-stunt master who used to work in the film industry.
Post-retirement, it is hard for him to sit idle at home, so he tries to keep himself occupied by doing some part-time job as a gym instructor.
But nothing satisfies him, so he decided to set on a trip to Hyderabad with his old bullet where he met a group of bikers and telling them his first love story.
Power Paandi tells a beautiful story that is heartwarming and enjoyable to watch.
If you are looking for a feel-good movie to watch, surely you can stream 'Power Paandi' on Netflix.
KD
IMDB Rating: 8.6
Director: Madhumita Sundararaman
2019 Tamil movie 'K.D' is an amazing film with an amazing story that I have watched a couple of days back on Netflix.
The story revolves around the struggles of an 80-year-old-man, Karuppu Durai, who is bedridden for three months in a coma when he comes in consciousness; he finds his family is performing an ancient ritual called 'thalaikoothal.'
Karuppu manages to run away and take shelter in a temple where he meets an 8-year-old-boy, Kutty. Kutty encourages KD to lives his life by chalking out a bucket list. Eventually, the two bonded over the time on a road trip.
The movie narration is emotional yet has a touch of comedy. It is a tale of two people of different ages and different mind-set who bonded differently.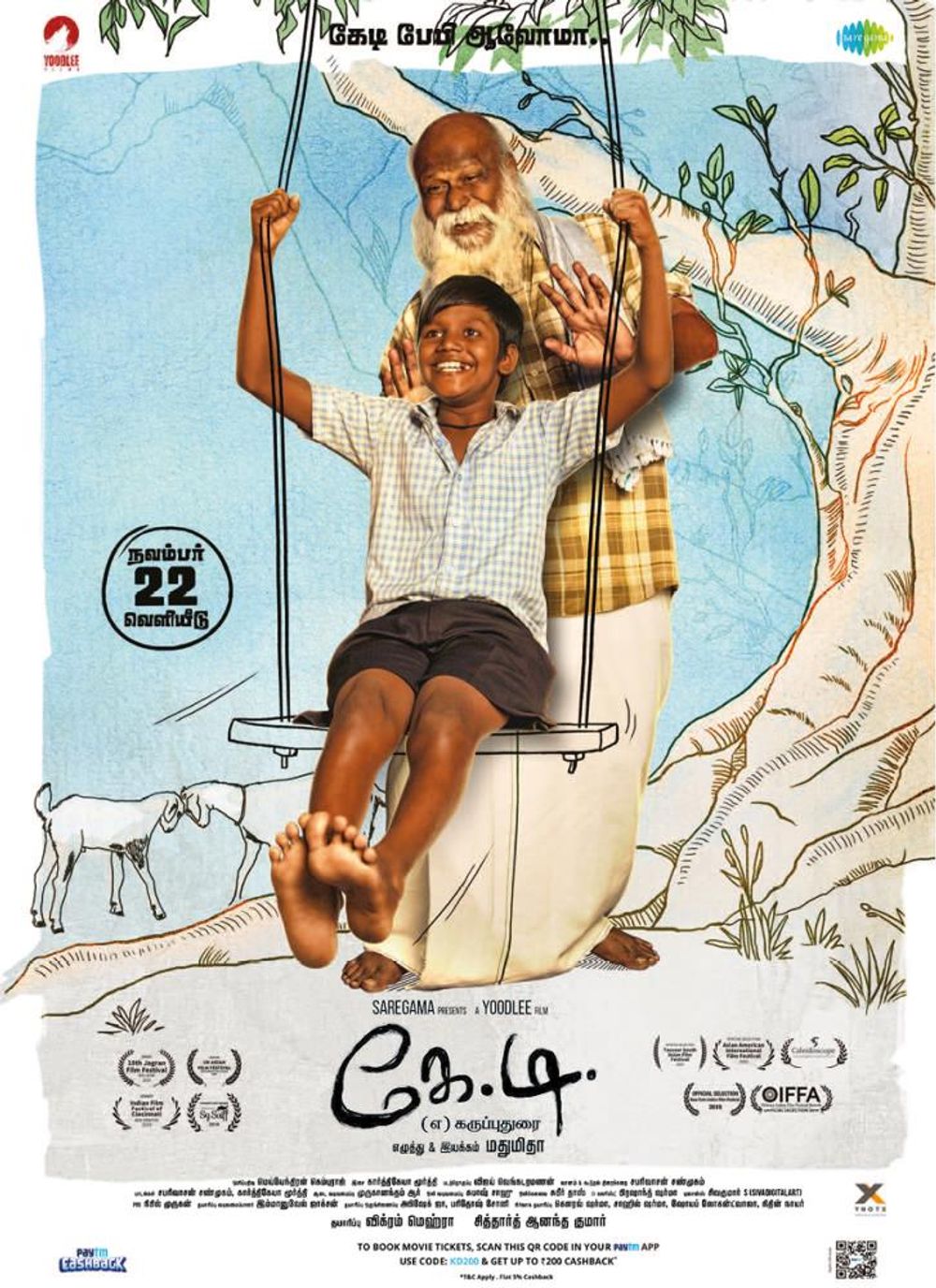 Manusangada
IMDB Rating: 8.5
Director: Amshan Kumar
The movie 'Manusangada' has won positive reviews in international film festivals. The story is based on the Dalit struggles in contemporary India and their violation of human rights.
The protagonist, Kolappan, works in Chennai, who rushes to his village after he heard the sudden demise of his father.
He wants to give his father's body a dignified burial, but the caste-based prejudiced village violates his basic right.
The movie is all about how Kolappan fights and stand against the long-standing inhumane behavior in the caste-based issue.
'Manusangada' demonstrates an incident that millions of Dalits are still facing in our country.
Aval
IMDB Rating: 6.8
Director: Milind Rau
Siddharth is starring in the lead role Tamil movie 'Aval' is a 2017 Indian horror film that is shot in three languages. Though the IMDB Rating is only 6.8 if you count it as a horror movie, it is an amazing horror-thriller film.
The story follows Siddharth as Dr. Krishna, who is a reputed brain surgeon along with his wife, lives peacefully in their house, which is surrounded by beautiful mountains.
Soon their life turns into a nightmare when a new family moved into the house next door.
The movie has a haunting element with multiple thrills and jumps scares. If you are someone who loves watching horror movies, I would recommend you 'Aval' for your sleepless night.
Baahubali: The Begining
IMDB Rating: 8.1
Director: S.S. Rajamouli
In 2015 S.S. Rajamouli's 'Baahubali: The Beginning' made everyone crazy with Prabhas, Rana Daggubatti, Anushka Shetty, and the entire cast who made the movie so grand.
The film is a cinematic experience that follows Shiva (Prabhas), a young man who fell in love with Avantika, who fights in support of Devasena, the former queen of Mahishmati.
The movie is a revelation of the truth about the true identity of Shiva. The movie won the National Film Award for Best Special Effects and Best Feature Film.
Not only that, but the movie also went on a record-breaking box office success grossing 650 crores worldwide.
Conclusion:
I will keep updating the list with more Tamil movies that Netflix will release.