Are you a Stephen King fan? Do you enjoy watching movies and shows based on his work?
If yes, then you are on the right page because I have added the best Stephen King movies and TV shows that are streaming now on popular platforms.
Although Stephen King movies and TV shows don't perfectly come under the horror genre as I find his content more psychological. Over the years, he has written so many novels, short stories which are getting filmed now.
Some of the movies and its characters are so iconic that they shouldn't be missed watching.
It's been a while when I have grown fond of his work and movies that directors have filmed. Take a look at the 14 movies and TV shows that are inspired by the works of Stephen King and are currently streaming.
Best Stephen King Movies and TV Shows Streaming Now
The Shinning
IMDB Rating: 8.4
Director: Stanley Kubrick
The Shinning is regarded as the best Stephen King adaptation of all time. The movie is a 1980 psychological horror genre of a movie based on King's 1977 novel.
The film revolves around the character Jack Torrance, an aspiring writer and an alcoholic who works in the Overlook hotel in Colorado. It's horrific to watch how Jack slowly becomes insane due to the influences of the supernatural forces that inhabit in the Overlook Hotel.
The Shinning is perhaps the best psychological horror movie ever made. The way it portrays the madness and captures the incredible detail moments will make you think and question the situation.
Carrie (1976)
IMDB Rating: 1976
Director: Brian De Palma
The supernatural horror film 'Carrie' is King's 1974 adaptation based, which follows a 16-year-old girl Carrie White who possesses psychic powers. Her powers begin to take shape when she is constantly bullied by her school mean girl classmates.
When Carrie loses her control, she seeks revenge on the incessant bullies in a spiteful rage.
The movie is widely applauded by the critics and the audience for its fantastic combination of supernatural powers with horror imageries.
The Shawshank Redemption
IMDB Rating: 9.3
Director: Frank Darabont
Unlike the other films of Stephen King, The Shawshank Redemption is a 1994 drama film that tells the story of Andy Dufresne, who is sentenced to life in Shawshank State Penitentiary for murdering his wife.
In prison, he developed a friendship with a smuggler Ellis Redding. The movie is the best American drama of all time because of its unforgettable performances by both the actors.
The Mist
IMDB Rating: 7.1
Director: Frank Darabont
Stephan King's adaptation film 'The Mist' follows a story with a heavy mist that evolves in a small town in Maine. The incident follows the electricity to go out completely in the entire town.
David Drayton (Thomas Jane) and his son Billy (Nathan Gamble) went out in a supermarket to buy few essentials and got trapped inside with a group of strangers.
Nobody knows what's wandering outside, but whoever is going out seems to lose their life. How are they going to survive? Is it some monster outside waiting to feed on them?
There is a lot of tension and suspense in the film that keeps the audience's attention intact.
Stand By Me (1986)
IMDB Rating: 8.1
Director: Rob Reiner
Director Rob Reiner's Stephen King adaptation coming-of-age film 'Stand by Me' is a tale of four boys who are living in the Castle Rock, who find out the body of a neighborhood boy. It is a timeless classic movie that celebrates childhood, friendship, and adventure.
It is typically not a horror movie but a beautiful coming-of-age movie that brings back nostalgia. The casting of four young boys in the film are genuinely exceptional as they performed remarkably well.
The story has a poignant theme of a sense of loss, recognizing truth, and entering the youth while losing the innocent yet joyful boyhood.
Doctor Sleep
IMDB Rating: 7.4
Director: Mike Flanagan
Doctor Sleep is Mike Flanagan's one of the most ambitious adaptations of Stephen King's sequel to the "The Shining."
The film is a tribute to both Director Stanley Kubrick and Stephen King. The story follows the adult life of Danny Torrance, a man who has psychic abilities and struggling hard after his childhood traumatic experience at the Overlook Hotel.
Danny is now an adult, and he met a small girl who has similar psychic powers like him, and both sets on a mission to destroy the True Knots, who preys on the soul of children for their living.
Eventually, the movie links several scenes and has symbolic references with "The Shining." The ending of the film where Danny takes Abra to the Overlook Hotel to kill the leader of the True Knot has explicitly reminded us of the Stephen King's "The Shining," and it's characters.
It (Part 1)
IMDB Rating: 7.3
Director: Andres Muschietti
Andres Muschietti directed the horror film IT in 2017, which is an adaptation of Stephen King's novel of the same name in 1986. The film follows a scary story of a clown in a small town named Derry. The story revolves around seven friends who are terrorized by a demonic clown.
The seven young friends decided to fight against the evil together. Pennywise is King's one of the terrifying evil characters and an iconic figure too. The creature feeds on children's fear.
Bill Skarsgard as Pennywise is unique and delivered a quite frightening performance in the IT Part I.
1922
IMDB Rating: 6.3
Director: Zak Hilditch
1922 is a movie that is based on King's 2010 novel of the same name. The story follows Wilfred James (Thomas Jane), a Nebraska farmer whose wife Arlette inherited a piece of land that she wants to sell so that she can move out to the city with her son.
But Wilfred dreams of living in the county always and wants his son to do farming like him. But Wilfred commits a heinous crime by murdering his wife to keep his son to him.
The movie depicts a man's insanity for his son's love. The film is grey and violent. Thomas Jane, as Wilfred, does a remarkable job of portraying a convincing character.
The film isn't visually striking neither is it a core horror film to my understanding. But can be considered as a good movie only because of the character Wilfred James.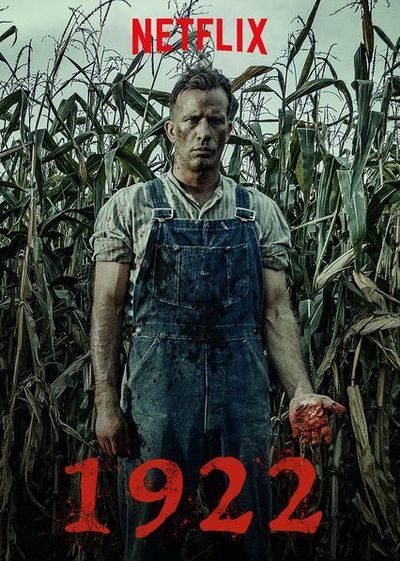 Dolores Claiborne
IMDB Rating: 7.4
Director: Taylor Hackford
Yet another one of the best Stephen King movies to watch if you are a fan of his novel. The film is an adaptation of King's 1992 novel of the same name.
The story focuses on the strained mother-daughter relationship, where Dolores Claiborne (Kathy Bates) is wrongly accused of murdering an older woman. Dolores has a distant relationship with her daughter Selena who is now a successful journalist in New York City.
She came back to her home to support her mother, but she hardly believes that Dolores is innocent because Selena thinks her mother killed her father too. When Selena figures out the truth, a repressed memory of her father clears all her doubts.
Kathy Bates once again nailed her role as Dolores in the film.
Gerald's Game
IMDB Rating: 6.6
Director: Mike Flanagan
Gerald's Game is a movie that focuses on a married couple who wants to revive their sexual life, so they went to a remote location to spend some quality time.
Bruce Greenwood plays the husband died of a heart attack and left her wife Carla Gugino handcuffed with a bed. Their weekend gateway turns into a nightmare.
Alone and scared Jessie (Carla Gugino) is hallucinating her dead husband and provokes to make her remind the horrible childhood that she went through.
The entire movie lies on the shoulder of Gugino; she tried to keep us locked with her character as long as possible. The story uses flashbacks revealing Jessie's dark past that she has buried deep down in her conscious.
Misery
IMDB Rating: 7.8
Director: Rob Reiner
Misery is the only film of Stephen King's based that won Academy Award for the amazing performance by Kathy Bates.  
The story revolves around a psychic nurse Annie Wilkes who saved a reputed novelist Paul Sheldon after he met with an accident while traveling from Colorado to his home New York City.
Annie claims to be his greatest fan, and because she saved his life in return for his gratitude, he let Annie read the manuscript of his latest novel. Annie flies into a rage as she didn't like the ending. She captivated Paul and told him to write a novel on Misery's Return.
Can Paul escape from his horrific experience off the road? What's wrong with Annie?
Annie has delivered a phenomenal performance that has bagged her one o the most prestigious award.
The Green Mile
IMDB Rating: 8.6
Director: Frank Darabont
Frank Darabont's crime-drama film 'The Green Mile' is a Stephen King adaptation 1996 novel of the same name.
The story follows Paul (Tom Hanks), who is in charge of Death Row in a Louisiana jail and John (Michael Clarke Duncan), a prisoner who is convicted for murdering and raping two white girls.
John has supernatural power that cures Paul's bladder infection. The movie did remind me of King's The Shawshank Redemption because, in this movie, too, the central character is one white and one black.
The Green Mile is a movie that demonstrates a relationship between two people and how impactful John became in Paul's life. The film is a bit dragging; it is nearly 3 hours long.
The Castle Rock
IMDB Rating: 7.6
Story-based on: Castle Rock by Stephen King
The Castle Rock is a psychological thriller series that is currently streaming on Netflix. The story revolves around a character named Henry Deaver of The Castle Rock and the alternate universe.
In the series, Henry Deaver is a death-row attorney who returns to his hometown, The castle Rock, after years to see his sick mother.
He is contacted by a bodyguard of the Shawshank prison to help a mysterious kid in prison. Henry unfolds several past disturbing incidents of his memories of which he is not clear for years.
The plot is confusing and will take you back and forth in the kid and Henry's childhood. The show continues to raise questions about the relationship between both the Henry Deaver.
The Henry of Castle Rock is the son of Ruth and Matthew Deaver, and Bill Skarsgard plays another Henry.
The Castle Rock is one of the best Stephen King TV shows to watch, and it will keep you thinking what's exactly happened to the Henry.
The Outsiders
IMDB Rating: 7.9
Streaming On: Disney + Hotstar
The Outsider is an HBO original series, which is a Stephen King adaptation. The story of The Outsider follows a series of gruesome murders of children in a fictional town of Oklahoma.
Detective Ralph Anderson (Ben Mendelsohn) is in charge of the investigation. He wrongly accused a school baseball coach Terry and soon finds out that the murderer is still out there roaming freely.
Unable to track the killer, his team hired a private investigator who, with the help of her unusual sense and wit, put the puzzle in line.
The Outsider is one of the most gripping and a tremendous supernatural-thriller series based on Stephen King's novel of El Coco.
The series is a slow burn well-crafted show. It let you understand each character and slowly turns the story into a mysterious one.
Conclusion:
Hence, the above mentioned are the best of Stephen King movies and TV shows to stream and watch. For the past few years, a lot of movies have been made that are an adaptation of Stephen King's work.
Not all are great, but some genuinely deserve to be watched again.