26 Best Sitcoms of All Time to Stream in 2023
What are the best sitcoms of all time?
Well, for years now, people are enjoying the sitcom genre of television shows. Ever since the 1960s, television shows are evolving with time. The changes in the sitcoms are evident, too, with the cultural and economic changes.
For a very long time, people consumed watching various sitcoms for a good laugh. There aren't any thrilling factor or mind-bending sci-fi themes; what people love the most about a good sitcom is a laugh.
Our lives are increasingly becoming more hectic and stressful, so why not watching an episode of one or two of say 'FRIENDS' or 'How I Met Your Mother.'
With the arrival of so many streaming platforms, now it is easier to stream some of the classic sitcoms. Netflix, Hulu, and HBO have saved some of the longest-running and worthy of binge-watching best sitcoms of all time.
26 Best Sitcoms of all time
Friends (IMDB Rating: 8.9)
There isn't anyone who will say that they don't like or enjoy watching 'FRIENDS' episodes. It is one of the longest-running American sitcoms from 1994 – 2004, and the best thing is it is still winning everybody's heart.
As the title suggests, 'Friends' follows the personal and professional lives of six friends who live in Manhattan. It mainly focuses on their casual everyday lives, their dating lives, love, marriage, friendship, and every other aspect of an individual's life.
It is an extremely popular sitcom because of the six individuals who have performed incredibly well throughout the 10 seasons. 'Friends' have won several awards and, more importantly, love from all over the world.
Streaming on Netflix
Modern Family (IMDB Rating: 8.4)
What's so special about 'Modern Family'?
It is yet another longest-running American sitcom that is family-friendly, fun, and relatable. The story follows around three families that are held together by love and virtue. I.T. shows their everyday life with a touch of sensitivity and humor.
Sitcoms are meant to be funny, and so does 'Modern Family,' but it also gives valuable life lessons that are one reason to make it worthy of watching.
Based on the IMDB Rating and the number of awards it has won over the years makes sense why you should watch it if you haven't.
Streaming on Disney + Hotstar & Hulu
The Big Bang Theory (IMDB Rating: 8.1)
'The Big Bang Theory' is a massively successful American sitcom though a section of an audience didn't find it so amazing like it has gained its name.
Jim Parsons, as Sheldon is an eye pleasure to watch. Sheldon Cooper is annoying, and all the other characters are quirky, but the quirkiness makes the sitcom so much interesting to watch.
The socially awkward, geeks and nerdy group of friends evolve when they go outside of their world. The show won seven Emmy Awards and other prestigious awards too.
Streaming on Netflix.
The Simpsons (IMDB Rating: 8.7)
The Simpsons is an American animated sitcom series that depicts satirically the working-class life, represented by the Simpson family in the town of Springfield.
It will be wrong to say that since it is an animated series, so only kids will enjoy the series is very much meant for the adults to enjoy.
The Simpsons have won ten (10) Emmy Awards; it's so phenomenal and arguably is one of the best sitcoms of all time. The characters of 'The Simpsons' are hilarious, humorous, unique, and introduces pop culture into the animation series makes it all watchable.
Over time, the show might have lost its zest and became repetitive; still, I would say if you enjoy a sitcom, 'The Simpsons' is for you.
It is streaming on Disney + Hotstar.
How I Met Your Mother (IMDB Rating: 8.3)
I had watched 'How I Met Your Mother' a couple of years back when I was residing in Seattle.
The one reason why I like the show so much is the way it tells the cycle of our life, like how we meet someone, how with life's force destiny works in meeting someone, and they become a part of our family.
Also, the characters feel realistic; each couple tells different issues of life that we might have faced too. The transformation of each character is honest and feels original. Like I could connect with the character Barney, his transformation is lovely, in my opinion.
So, 'How I Met Your Mother' has all the reasons for being the best sitcom ever.
It is streaming on Disney + Hotstar Premium.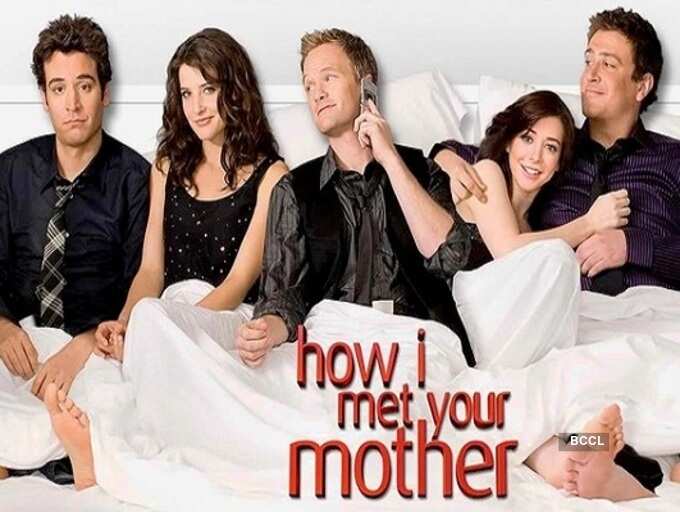 Also Read:
Seinfeld (IMDB Rating: 8.8)
Popular American sitcom television series 'Seinfeld' aired in 1989, the show follows the life of Seinfeld a struggling comedian and his life with his friends and acquaintances in the New York City. It is more of a depiction of Seinfeld's daily life in Manhattan.
'Seinfeld' and 'Friends' have a similar approach to depicting everyday life in Manhattan. According to Rolling Stone, Entertainment Weekly, it is one of the best television shows of all time.
It is streaming on Hulu in the U.S. and on Amazon in other countries.
The Office (IMDB Rating: 8.9)
'The Office' is Netflix's one of the most popular T.V. shows. Whenever we talk about the sitcom, The Office holds a unique space in this genre.
It is not just the humor that keeps the audience occupy but the performances of each character that keeps us entertained throughout.
Both Steve Carell and John Krasinski are the star of the show. The show follows a group of office workers and their documentary of each day in the office through mockery.
The nine seasons of The Office have fetched it a lot of awards for different categories. Even today, after years, the superhit television sitcom series gives us what we want, i,e. laughter.
Streaming on Netflix
Everybody Loves Raymond (IMDB Rating: 7.1)
Everybody Loves Raymond is another American sitcom of the time that aired on the television in 1996 till 2005.
The show follows the everyday journey of a sports columnist Ray Barone and his equation with his family and friends.
If you have watched 'How I Met Your Mother,' 'Friends' I can pretty much say that you will gonna love this amazing sitcom too.
The duo of Ray and Debra (Patricia Heaton) is fun to watch and how they manage their financial strain. The show has shown some of the real issues that families face often.
Streaming on Amazon Prime
Parks and Recreation (IMDB Rating: 8.6)
The American political satire sitcom series 'Parks and Recreation' is a plot that revolves around Leslie Knope, who is the deputy director of the parks and recreation department in the town of Pawnee in Indiana.
Each season has different stories that involve the parks and recreation department employees and how they try to make their town a better place.
The show received a bad response in their first season, but they picked up quickly and became one of the top-rated IMDB best sitcoms ever.
Streaming on Hulu.
Coupling (IMDB Rating: 8.5)
Coupling is a British TV series that got aired on BBC 2, where six best friends talk about sex, love, and relationship until they find true love.
The show does have a bit resembles with the popular sitcom show 'Friends,' but Coupling is way more focused on the discussion about sexuality and with great comic timing.
The series is streaming on multiple streaming platforms HBO Max, Hulu, Hoopla.
It is one of the very few British sitcoms that's actually turned out to be the best.
Also Read:
Brooklyn Nine-Nine (IMDB rating: 8.4)
'Brooklyn Nine-Nine' is a television sitcom series that is fun enough to watch on your way back home after a hectic workday. If you enjoy watching The Office, I suppose you will love 'Brooklyn Nine-Nine' too.
The show follows the story of young and brilliant Brooklyn detective Jake and his day to day life with the diverse colleagues of his NYPD department.
It is a great comedy infused sitcom series with a serious discussion about current affairs.
Streaming on Netflix.
BoJack Horseman (IMDB Rating: 8.7)
BoJack Horseman is one of the best-animated sitcom series of the generation.
The 6 seasons sitcom show is a highly acclaimed and popular animated series that talks about an animated figure BoJack Horseman's Hollywood life.
It is an extremely comical and sometimes out of context jokes are being said. The quirky cartoon character is dark and subversive.
You may not like him in the first couple of episodes, but as the episodes go on, BoJack Horseman grows intense.
It is one of those rare sitcoms that won't bore you; neither will make you feel wasted. It is worthy of binge-watching.
Streaming on Netflix.
Also Read:
Bob's Burgers (IMDB Rating: 8.1)
After 'BoJack Horseman,' I would say 'Bob's Burgers' is the second-best animated sitcom television series to watch.
The show follows the story of Bob Belcher and his family running their restaurant. I have watched the series until season 6, and I loved it.
The characters in the show don't rely on vulgar humor; instead, it captures real-life family situations with a blend of humor and real emotions.
Usually, I find cartoon movies or series a bit boring and repetitive after a certain point of time, but it's not like that with 'Bob's Burgers.' The characters have a soothing visual effect, and its portrayal of the working-class life is relatable.
So, I would say it is one of the best animated sitcoms of all time.
Streaming on Hulu.
Derry Girls (IMDB Rating: 8.4)
Derry Girls is yet another amazing and fun British sitcom that is set in Derry, Northern Ireland, in the 90s and has been continued to win hearts.
The show follows stories of five teenage girls along with a teenage boy who got enrolled in an all-girls catholic school in the 90s in Ireland. There is not only comedy but a sweet combination of teenage issues, vulnerability, rebellious mode, wit, and humor.
I really think people should start watching British television series too. Most of them are truly amazing. Thanks to Netflix for making them available on their platform.
It only has two seasons, and you can binge-watch it on Netflix.
The Mary Tyler Moore Shows (IMDB Rating: 8.1)
Mary Tyler Moore Shows is a sitcom television series of the 70s, where Mary Richards, after separating from her partner, moves to Minneapolis and struggling to look for a position in the male-dominated world.
This is one of the many early television shows that shows the journey of a career-oriented woman during the 1970s. Mary is the representation of the modern independent woman. It explored the happier side of a single and funny woman.
It is a refreshing, fun, and likable show where the main character is a woman who does her best and turned out to be a perfect symbol of women empowerment in the workplace.
Streaming on Hulu
Peep Show (IMDB Rating: 8.6)
The nine seasons sitcom 'Peep Show' is a great British television comedy show that is witty and hilarious in writing and gave fantastic performances.
Moreover, the show is now considered as a cult show in the sitcom genre. The awkwardness of the 'Peep Show' is its brilliance. It is a brilliantly written character both Mark and Jez.
Streaming on Netflix.
I Love Lucy (IMDB Rating: 8.4)
'I Love Lucy' is one of the early American television sitcoms of the 1950s. Many people literally grew up watching the series. The show depicts a flawed woman in a marriage relationship who tries to enter into the entertainment industry.
If you are looking for some good laughter for a healthy heart, watch 'I Love Lucy' and laugh wholeheartedly.
The sitcom series is ahead of its time, undoubtedly Lucille Ball carried the show incredibly well over her shoulder with her amazing comical timing.
Desi Arnaz has provided great support to make the show one of the best sitcoms of all time.
Streaming on Hulu and rent/buy on Amazon.
Sarabhai Vs. Sarabhai (IMDB Rating: 8.9)
With American sitcoms and British sitcoms, Indian sitcoms are also not far behind. Sarabhai vs. Sarabhai is a laughter comedy television show that revolves around the Sarabhai family, who belongs to an elite class of society.
The elder son of the Sarabhai family gets married to Monisha, is opposite in everything as compared to her in-laws. The show depicts the class conflict in a sweet combination of wit, humor, and sarcasm.
The show has an amazing and talented cast; they made this show one of the best Indian sitcoms with their brilliant performances.
Streaming on Disney + Hotstar
Gilmore Girls (IMDB Rating: 8.1)
Gilmore Girls is one of the best American sitcoms show to binge-watch on Netflix. The show captures the beautiful mother-daughter bond through the characters Emily, Lorelai, and Rory.
The onscreen mother-daughter bonding gives me a glimpse of what relationship do I share with my mother.
I fell in love with the show because of the mother-daughter story. It is a feel-good series that you can always watch and to have a gentle reminder of your relationship with your mom.
Streaming on Netflix
Family Guy (IMDB Rating: 8.1)
The 'Family Guy' is considered as a legendary cartoon sitcom television show about Peter Griffin and his family.
The show is fantastic, hilarious, weird jokes, and the lovable characters make this show a popular one. Let's not forget it also has many musical backgrounds for uplifting the mood.
The popularity of the show might have gone down now, but still, it is a good comedy show to get entertained.
Streaming on Disney + Hotstar
The I.T Crowd (IMDB Rating: 8.5)
The British sitcom television series 'The I.T Crowd' is set in London with three recruits in an I.T. department who knows nothing about I.T.
A group of misfit I.T. workers always on stress, humiliation, situational comedy, and keep no expectation from the series of being perfect. There is a laughing riot situation on their hysterical I.T. knowledge.
'The I.T Crowd' has episodes for a burst of endless laughter and jokes.
Streaming on Netflix
The 70s Show (IMDB Rating: 8.1)
'The 70s Show' is a coming of age sitcom revolves around a group of teenage friends set in the 1970s Wisconsin.
The show ran for 200 episodes, and it depicts the adolescent issues of teenagers. It is one of the most underrated American sitcoms of lovers and friendships. It brings back the 70s pop culture sensation.
Ashton Kutcher as Michael Kelso is one of the best characters to enjoy watching. Watching the series gives nostalgia; it feels like hanging out with your core group of friends that are more like your family.
All the characters transformed into a mature person with time seems so natural and relatable.
I love the show, and you can stream it on Netflix.
The Middle (IMDB Rating: 7.5)
It's been a few days now that I have finished watching 'The Middle' and I find it a very amusing sitcom to watch.
The nine seasons of the show is about a lower-middle-class family living in a town of Orson in Indiana facing a financial struggle of everyday life.
The Heck family and their three kids Axl, Sue, and Brick, are three opposite individuals. They might be broke, but in the end family and love is all they need for support and overcoming their challenges.
'The Middle' is one of the most underrated American sitcoms that deserve to get all the attention.
Sue is the most inspiring and kind character above all the others. The show is educational, fun intended, quirky, and a lovely family show to watch.
Streaming on Amazon Prime
One Day at a Time (IMDB Rating: 8.2)
Netflix Original sitcom 'One Day at a Time' is inspired by the Norman Lear's 1975 series.
The show follows the life of Penelope, an Army Veteran raising her two kids along with her Cuban American family facing the daily ups and downs of life. The series depicts the real-life problems with a punch of humor and wit.
It is a clean family shows portraying social and family issues with lovely characters.
It explicitly shows the Cuban family culture and their ongoing life in America. Though Netflix has canceled the fourth season, it is still streaming three seasons that you should watch.
Streaming on Netflix
The Marvellous Mrs. Maisel (IMDB Rating: 8.7)
I believe 'The Marvellous Mrs. Maisel' is the best period drama sitcom of recent years. The story is set in the late 1950s, Rachel Brosnahan, who played Mrs. Maisel living a perfect life with a loving husband and two kids at a luxurious apartment of New York's Upper West Side.
It is when her husband cheated on her she set on a journey to make her own and struggles to find a place as a stand-up comedian.
The show is fun, comic, visually attractive, especially the costumes on Mrs. Maisel look stunning. The show becomes massively successful, and it deserves to be.
The show is a great combination of the spectacular screenplay, acting, musical numbers, costumes, cinematography, and the setting of the New York of the 50s.
It also won several awards, including the Emmy Awards.
Streaming on Amazon Prime
Arrested Development (IMDB Rating: 8.7)
Back then, a friend of mine suggested 'Arrested Development' to me. Well, it is a different sitcom with a unique storyline. The show follows the wealthy Bluth family, and Michael, the only son, takes control of the dysfunctional family.
When you start watching the sitcom, you will look it as an average series, but the more episodes you will finish, the better the story unfolds and will grab your attention to think why IMDB and Rotten Tomatoes has given it such high ratings.
Streaming on Netflix
My List of Best Sitcoms on Netflix
FRIENDS
BROOKLYN NINE-NINE
KIM's CONVENIENCE
ALEXA & KATIE
GRACE & FRANKIE
WORKING MOMS
DERRY GIRLS
Conclusion
So, these are my recommendations of 26 best sitcoms of all time that you can enjoy watching.
Like and share!