Are you someone who loves romantic movies of any sort? And you are looking for some best romantic movies on Amazon Prime right now?
Then you are in the right place as in this blog post; I will provide you with a list of all the best romantic movies that you can watch only on Amazon Prime.
Everyone likes the genre of romantic movies for its fun, light-hearted, comedy, or it can also depict a sensational and an intense love story that might melt your heart.
No matter what your mood is, a good romantic movie always a pleasure to watch.
Over decades Hollywood has a great many romantic movies that are now streaming on different platforms Netflix, Hulu, Disney +, Amazon Prime, etc. Some are even 'originals movies' of respective OTT platforms.
If you are tired of searching with the keywords on the search bar of Amazon Prime, I am here going to make your job easy with the list.
Best Romantic Movies on Amazon Prime
Chemical Hearts
Released a couple of weeks ago, I watched the Amazon Prime Original movies just a few days back, and I pretty much liked it.
Though the IMDB rates aren't that great, if you are a hopeless romantic movie fan, this movie might bring you tears.
It's a teen romantic movie streaming on Amazon Prime that follows the story of two high school senior Henry and Grace. Henry (Austin Abrams) is a melancholic guy who loves writing but struggles to find words as nothing inspires him.
Grace (Lili Reinhart), who transfers from another school, is an emotionally fragile and broken young lady who lost her boyfriend, Dom in an accident.
Both are involved in a love relationship but crushed under grief. The movie is made for a targeted audience, and that's the teenage/young audience. Both the characters portray the teen years who are suffering heartbreaks.
There is nothing unique in the story, but since I am talking about romantic movies, this movie definitely fits in the list.
The Big Sick
There is no way I can miss mentioning one of the romantic movies best of all time 'The Big Sick' streaming on Amazon Prime.
It is a real-life inspired love story of Kumail Nanjiani and Emily Gordon. The best thing about the film is Nanjiani acted himself in his role.
The movie depicts their beautiful love story despite all the cultural differences, family expectations, and life-threatening illnesses.
It's real, has comedy, perfect performances and never to miss a romantic movie.
Kumail Nanjiani admits that the film was more personal, and he never expected that it would get such a positive response worldwide. (Source: IndieWire).
Portrait of a Lady on Fire
I watched this outstanding French romantic movie 'Portrait of a Lady on Fire' directed by Celine Sciamma twice, to understand the deep meaning of the collaboration between an artist and her subject.
The movie tells a beautiful and subtle love story of Heloise and Marianne, set in France during 1770. Marianne is a commissioned painter who has arrived at the palace to do a portrait of Heloise. During the process, both fell for each other.
What's special here is it's not a film like the rest of the same-sex love story movies. Celine's film has uniqueness, depth, the layered meaning of the story, and extraordinary performances by the two lead female actors.
The ending last few minutes of the film has so much to say, to interpret about love, feelings, and togetherness.
Sleepless in Seattle
Seattle city is close to my heart because I have spent two wonderful years of my life living there. 'Sleepless in Seattle' is one of the best romantic movies classic of 1993 starring Tom Hanks and Meg Ryan in the lead.
It's an absolutely beautiful love story between two adults Sam and Annie, with no physical contact across the country. Sam (Tom Hanks), after the demise of his wife, moved to Seattle with his eight-year-old boy Jonah.
It is Jonah who brings both Sam and Annie together finally to start one happy family.
While watching the film, it reminded me of an evergreen classic romantic movie 'An Affair to Remember".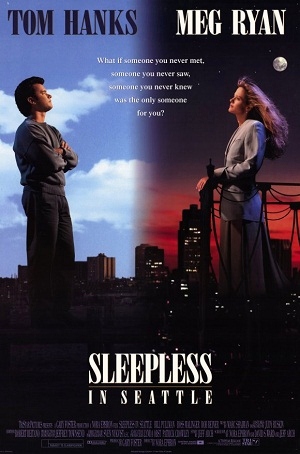 Breakfast at Tiffany's
1961 romantic classic movie 'Breakfast at Tiffany's' is another one of the best romantic movies on Amazon Prime to watch.
The movie greatly captures the New York socialite and tells the story of Paul, a struggling writer who fell for Holly in New York city.
I loved Audrey Hepburn as Holly; she is full of spirit, lively, and an eccentric elite woman. It's a beautiful film altogether to watch, and you can certainly imagine New York during that period.
Letters to Juliet
Amanda Seyfried as Sophie in the romantic flick 'Letters to Juliet' is a wonderful rom-com streaming on Amazon Prime. The story follows Sophie, who is engaged and off to a vacation in Verona with her fiancé, who is a restaurant owner.
While he was off to wander around the city looking for exotic ingredients for his restaurant, Sophie joins a group that answers people's love letters.
Doing so, one day, she found a love letter from the 50s,' and she wrote her back. Henceforth, she embarks on a journey of self-discovery and love.
The best thing about this film is its outdoor scenic places. A majority of the film takes place in different places around Europe, and it's truly unusually beautiful.
Brittany Runs a Marathon
Amazon Prime original movie 'Brittany Runs a Marathon' is an inspiring story about a Brittany, a 28 year-old-lady living in New York.
Her life revolves around partying, consuming alcohol, and depressed her being over-weight. Brittany is a morally down person who joins a group for running a 5k marathon.
She found a motive in her life now and also found herself in a relationship.
The movie depicts her life, how with positivity and determination, her life found a purpose that drives her relationship happy.
'Brittany Runs a Marathon' might not be a flirting or an intense romantic movie, but it did have the essence of love of herself.
Dilwale Dulhaniya Le Jayenge
Why only Hollywood movies?
Amazon Prime has a great collection of Hindi romantic movies too, and one of them is the evergreen 'Dilwale Dulhaniya Le Jayenge.'
For every Indian, this is the most romantic movie ever in the Indian cinema. The movie starring Shahrukh Khan as Raj and Kajol as Simran who met in their trip to Europe along with their respective friends.
The two fell in love most beautifully, but back in India, they have to fight for their love and stand against their family.
It's a typical every story like almost every Hindi romantic movie has, but what makes it stand out the rest is the chemistry between the two actors, the melodious songs, and the performances, of course.
Breathe
Last weekend I watched a rather beautiful love story movie named 'Breathe' on Amazon Prime. It is a biographical film that follows the story of Robin Cavendish (Andrew Garfield), who is happily married to wife Diana (Claire Foy).
But his destiny has some other plans, and his life begins to fall as he becomes paralyzed from Polio.
Just at 28 lyings still to his bed has made him depressed, and his heart is filled with all sorts of negativity. But it is the love of his wife Diana that gave him the courage to fight back with his medical condition.
It's a heartfelt story, and you can watch similar movies like 'The Theory of Everything,' 'A Beautiful Mind,' 'Me Before You.'
What If
Finally, Daniel Radcliffe rose above his Harry Potter image. He did a good romantic movie named 'What If' that follows the story of Wallace (Radcliffe), who had experienced a series of failed relationships until he meets Chantry (Zoe Kazan).
Though the storyline is familiar and predictable, also I would say likable. The two characters are okay in delivering their roles, and so does the movie.
It didn't set any high expectations, so as the movie begins, you kind of relate to the characters and start enjoying.
No Strings Attached
If you are looking for American romantic comedy movies, I would say 'No Strings Attached' is one such movie starring Natalie Portman and Ashton Kutcher that you can watch multiple times.
It will never bore you. It's a simple, predictable story that you can assume within the first 15 minutes.
Adam post-break-up meets Emma and begins their casual relationship only physical, not emotional indulgences. Over time, both fall in love, see no complication, nothing.
Though if you compare, there are several other great romantic movies to watch, but if you want something that lights up your mood, you can stream this film on Amazon Prime.
Still Mine
There are some movies that you will admire and give you a feel-good factor. I think 'Still mine' is that one.
The story follows the character of James Cromwell Craig, a farmer fighting against a government official for the right to build a new house for his dementia-stricken wife.
It's a slow-pace beautiful story of two married aged persons who care, selflessly, for each other.
You will realize after watching that a great love story movie doesn't have to always two young souls.
You've Got Mail
'You've Got Mail' is yet another romantic movie classic that is starring Tom Hanks and Meg Ryan in the lead. The story follows an emerging love between Joe and Kathleen.
Kathleen owns a bookstore 'The Shop Around the Corner' that she is extremely attached to. Her mother used to run the store before her.
Joe, on the other hand, belongs to the big Fox Family who has a chain of bookstore business, and it got opened opposite to her small bookstore.
The two have now become rivals, but both didn't know about each other's identity that they chat over mail.
It's not a great but indeed one of the best romantic movies on Amazon Prime to watch.
The chemistry of both Tom Hanks and Meg Ryan is great and looks good onscreen. It's an enjoyable, light-hearted romantic movie to stream on a weekend night at home.
50 First Dates
Adam Sandler and Drew Barrymore starring romantic comedy movie '50 First Dates' is an easy-going offbeat film that follows the story of Henry, who met Lucy in Hawaii.
Lucy has short term memory loss; she keeps forgetting Henry, but he tries to win her over each day in a new way, and that's the whole story of '50 First Dates'.
It has a great storyline, and both the actors gave a compelling performance. I love Adam Sandler, and partially because of that, I very much love this movie.
Crazy Rich Asians
If you haven't watched 'Crazy Rich Asians,' you have indeed missed out of the romantic movies best of all time.
It tells the story of Chinese American Professor Racheal Chu, who is in love with Nicholas Young, a dashing and rich guy from Singapore.
Both want to take their relationship to the next level, so Nicholas takes her to meet his family to Singapore, and Racheal discovers that they are the richest family in the country.
So what's the movie is all about?
The movie explores the Asian American cultural differences, Racheal despite being an Asian, spent all her life in America. She can't even speak her language.
Nicholas' mother disapproves of her because she thinks she isn't the right fit for her son, who doesn't have an Asian upbringing.
Undoubtedly, with a solid storyline, this movie stands still on my list.
Conclusion:
So, these are my recommendations for best romantic movies on Amazon Prime to stream right now.