"A friend in need is a friend indeed."
After 28 years, I can say that I have a few friends with whom I have shared almost 15-16 years of my life. The journey of friendship begins with them from school, which continued till today.
Maybe we don't talk so frequently, because life is too busy now tied up with so many responsibilities.
But whenever I talk to them, I feel relief.
Like me, you too have such excellent best buddies in your life with whom if you ever get a chance to travel, you won't miss it.
So, today's blog post is about 'affordable best road trips in India with friends.'
India is a vast country, and it has so many magnificent places where you can plan to go with your group of best buddies.
Do you remember the Bollywood film 'Dil Chahta Hai' or 'Zindagi Na Milegi Dobara?'
Traveling with best friends is always a cool idea. It gives a significant break in your life and creates unlimited memories.
You can do crazy things that you can't do, sometimes when you are traveling with your family. By crazy things, I meant rafting, overnight camping, trekking or skydiving, drinking and etc.
With your family around, you mostly get protective and sane. Say, if your wife is scared of skydiving or rafting, you would probably not leave her aside and jump in doing those things.
Right?
But when you have friends of similar taste, it's a win thing for you.
So, where should you consider visiting in India with your 'Best Friends?'
If you google, you will find websites suggesting you almost the same places. What I will recommend or tell you in this blog post is the 'best road trips in India with your friends' which are little offbeat as well as the kind of experience that you guys together can do.
Affordable Best Road Trips in India with Friends
Related Post: How to Travel Responsibly
Road Trip from Mumbai to Goa
Well, Goa is one of the most popular beach destinations in India. It is an ideal place to travel for couples and friends. Now, you must have already been to Goa with your friends, I guess.
Once you are in college or graduated, mostly plan to visit Goa with their friends to celebrate success.
Even I along with my friends too planned once for Goa, but unfortunately, that plan never worked as two of my friends at that time got newly married.
But what I am suggesting is to take a road trip from Mumbai to Goa. Trust me, I have experienced the road trip but with my husband not friends and I can tell you this was one of my best road trips ever.
With friends, it will be more fun. Although it will take long hours to reach Goa so if you a group of two or three friends, then it will be more comfortable. Each can switch after an hour or two of drive.
You can hire a rental car from the city if you don't have your vehicle or you don't want to drive your vehicle. You can plan the road trip to Goa in different ways.
You can plan to enjoy the entire road trip on your way to Mumbai-Goa, and you can take flights to each of your destinations from Goa.
Related post: Where to go North Goa or South Goa?
Or if you and your friends are sturdy enough to enjoy the western ghat road, you can plan your drive accordingly but unlike the highway, the ghat road will take much longer.
A bike trip from Manali to Leh
A bike trip from Manali to Leh has been in the travel list of majorities. If your gang is a passionate bike rider and never shy away from the challenges that these roads will lead you to.
Then, definitely 'Manali to Leh' road trip to India is the best experience that you can cherish with your friends. Several tour agencies arrange bike trips of Manali-Leh.
They will provide you with the bikes and other accessories and also permit pass because those areas are restricted places under Indian army so, without a valid permit pass you won't be able to enter.
But you don't have to worry about that any travel agency that you will deal with will provide you the pass.
The road to Manali and Leh covers "Manali-Jispa-Sarchu-Leh-Khardungla-Pangong Lake-Leh-Sarchu-Manali."
So, generally, it is a trip of around 6-7 days giving you life's one of the best trips ever that will be cherished by you and your friends forever.
The best part about this road trip is you will be fortunate enough to visit and experience the Earth's most beautiful and sacred land.
So, if you planning then let me tell you that weather conditions in Leh and Ladakh are the prime thing that you have to keep on your mind.
The best time to visit would be from mid-June to mid-September.
The adventurous Roopkund trek is for them who loves trekking in high altitudes.
Roopkund is situated in Uttarakhand in the north of India and is famous for its stunning mountain views, glacial lake, and green plains. It is located in the Himalayas at an altitude of almost 4,800 meters.
Now, Roopkund is one of the best-chosen spots for trekking in India. Anyone who had experienced the Roopkund trek can tell how adventurous and exciting the journey is.
You will be passing through some of the most beautiful and exotic places that you have never seen before. The trekking is a life-time experience. You can't go there carrying your kids. The trekking is difficult at some locations.
So, if you want to do something exciting that will give your bones a shrill then Roopkund trek is a must to consider with your friends.
Now, you cannot plan alone for a trip like this. You have to go through a good agency which only handles and arranges Himalayan trekking groups.
They will pretty much take care of everything starting from the accommodation, transport from the primary location to the camping site.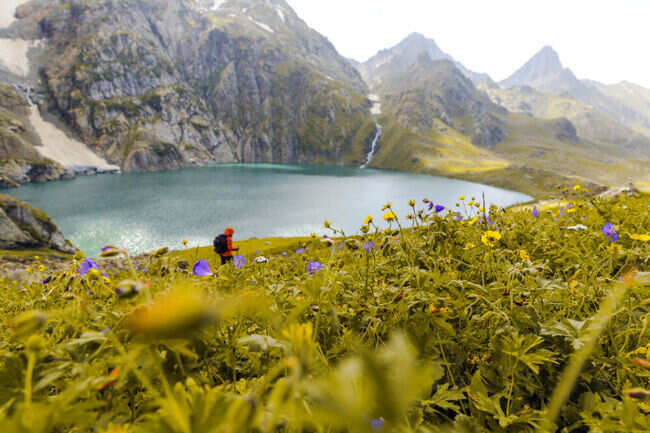 A Kerala Trip
Magnificent Kerala is situated in the southern part of India and is India's most beautiful natural paradise. One can not simply cover entire Kerala in just 7-8 days of trip. There are so many amazing places to visit in Kerala by road.
From Kochi airport, you can pre-book a rental car and enjoy the road to the majestic Munnar.
On your way, you can visit waterfalls, spice and tea plantations and the narrow hilly roads which are, of course, worth every penny that you have spent on the trip.
Honestly, a trip to Kerala covers everything. You can experience the misty mountains 'Munnar,' the wild forest 'Periyar National Park' and 'Wayanad,' the calm backwater 'Aleppey,' and the sunny beaches 'Varkala,' 'Kovalam' and many more.
Like, I was saying, it is nearly impossible to cover all the spots of Kerala but if you have time to spare and want to explore more of Kerala then at least 14-15 days would be enough.
Here, is my blog post on "best things to do in Kerala."
So, keep following for the upcoming post.
Meghalaya Trip to Experience the Northeast
Well, the Northeast states represent the nature, rainforests, numerous waterfalls, living root bridges, crystal clear lakes, mysterious caves, and dramatic clouds. Meghalaya is popularly known for the ancient 'Living Root Bridges.'
Along with your friends, a trip to Meghalaya would allow you to not only explore one of the northeast states but also get to know the culture and traditions of the Northeastern states.
Although people who reside in the north, west, and south of India, not really consider the northeastern states for their trip.
I would say, try it especially 'Meghalaya.' It is indeed one of the best places to visit in India with your friends.
Rafting & Camping in Rishikesh
Although Rishikesh is a holy place in India which is situated in the foothills of Himalayas. Apart from the temples and spiritual mode, Rishikesh is also famous for being a spot of 'Rafting and camping.'
You can get connect with tour guides who are professional in rafting and other adventurous activities.
Along with your friends, you can also enjoy go 'Bungee jumping,' if height doesn't scare you.
Indeed, one of the best places in India to visit with your best friends for 3-5 days of the trip. Rishikesh is also an amazing budget-friendly backpacking destination in India where you can stay and explore at an affordable rate.
Ranthambore National Park for tiger lovers
Well, if you and your friends love wild animals, especially 'tigers,' then a trip to a national park would be ideal.
As you know, India has quite several great national parks and reserves among them, the Ranthambore National Park in Rajasthan is highly famous for its big cats. The hero is the 'Bengal tiger.'
The national park is not only home to tigers but also to other species of birds, mammals, and reptiles. Photographers and wildlife enthusiasts from across the world come here to see the wildlife from near.
You can book a safari online if you intend to go.
A weekend trip to Mahabaleshwar during Monsoon
So, those who reside near Mumbai or Pune can plan a weekend trip to Mahabaleshwar during monsoon.
Mahabaleshwar is a quaint small hill station in Maharashtra which looks absolutely stunning during the monsoon.
People from around Maharashtra often love to spend their weekend with family and friends in Mahabaleshwar. As it is not very far from the city, a drive will give you the best experience.
The best thing about visiting Mahabaleshwar is that you can stop over to another awesome place name 'Panchgani.' It is also equally a beautiful small hill station on the way to Mahabaleshwar.
Both the places are famous, so accommodation isn't an issue here. There are plenty of resorts and homestays available as per your need.
When we went to Mahabaleshwar this monsoon, we stayed in MTDC, which is a Maharashtra Government resort. It is situated in a quiet place, and a walk through the road during monsoon morning is breathtaking.
(This is to note that I am not promoting MTDC. I have provided a genuine suggestion that I experienced.)
Scuba Diving in Andaman Nicobar Island
Picturesque landscape, crystal clear water, white sands make Andaman Nicobar island is a must-go-to place with friends.
The Andaman trip is a perfect laid-back, and enjoyable trip friends could have. You can add more elements of adventure like scuba diving or snorkel deep into the ocean.
Places like Port Blair, Havelock Island, Neil Island are the most popular and most visited places. You can enjoy hiking with the help of a guide. You can enjoy eating exotic plates of seafood. You can't miss that of course.
Andaman Nicobar Island trip usually cost more compared to other places in India so, try to cover everything in 7-8 days of trip.
The best time of the year to visit Andaman and Nicobar Island would be between October to April. Winter remains pleasant here. If you aren't an indoor kind of a person then you shouldn't plan during the monsoon.
A trip to Pushkar
You must have heard of Pushkar in Rajasthan, situated 2 hours away from Jaipur. It is every photographer's dream to come here and take some fantastic shots of the locals and the famous camel festival.
So, the camel festival is held on every October-November, which attracts tons of tourists from across the country and world.
So, if you planning for a Jaipur trip with your best friends, then you can stop by in Pushkar too spending a night and experience their beautiful culture and tradition.
Heavenly Kasol trip
Once again, this small town of Himachal Pradesh is one of the best places in India to visit with your friends. Kasol attracts young tourist more who are fond of camping, trekking and are great nature enthusiasts.
It is a great place to beat the summer, not only that it is a perfect place to keep yourself calm and away from the hectic city life too.
With all your friends, you can enjoy some outdoor activities also, creating for you all great memories by the end of the trip.
This small town has a lot to offer to the backpackers.
Now, comes the question which is the best time of the year to visit Kasol.
Kasol receives massive snowfall during winter, so it is always preferable to go on April – June. The climate remains at its best during this time of the year which makes activities like camping and trekking most enjoyable.
Note: Kasol doesn't have direct road connectivity from the major cities. So, either you can book a cab or take a bus from Delhi to Kasol which takes around 12 hours or you can go from Manali.
Gangtok, Sikkim
A lovely state situated in the northeastern part of our country has stunning landscapes and high altitudes where some roads are dangerous yet adventurous.
So, if your gang wants to do something exciting and wants to explore the mountains then hit the road to north Sikkim where the rough paths will take you to some of the Earth's beautiful hidden secrets. But you have to believe your guts in these roads.
The chill wind, cold, high altitudes, and occasional drizzling make it to severe to enjoy these spots. But it's a definite worth your time and money.
The best way to reach Gangtok is through Jalpaiguri, West Bengal. From Jalpaiguri, you can get a private cab and reach Gangtok by 5-6 hours depends on the current road condition and traffic.
A road trip from Bangalore to Coorg
Southern India is full of mystical places. You will get hill stations, majestic lakes, mysterious caves, historical temples, and the list goes on.
Those who live in Bangalore, they know the city has nothing more to offer now except traffics, over-saturated with people and pollution.
Even on weekends, the malls get crowded with heaps of people.
But you can't deny the fact that around the city, it has so many great places to visit with family and friends. Coorg is one such popular hill station which has been named as 'Scotland of India.' It is also a romantic honeymoon destination in south India.
Beautiful landscape, coffee plantations, and the wild western ghats have made it an attractive tourist destination in India. You will find several exotic homestays in Coorg, to spend your holidays in utmost relaxation.
So, if you are living in the south of India especially, in Bangalore then I would say, a road trip from Bangalore city to Coorg which takes around not less than 5 hours would be a great one.
Coorg remains pleasant throughout the year, so whenever there is a long weekend coming up, you and your best friends can plan to visit Coorg.
Conclusion:
Above mentioned destinations in India are the top places for a trip with friends, I believe. Every place is unique and different from the rest. So, based on your budget, time, interest, and location preference you can plan ahead.
Also read: Less Explored places to visit in India