India is a vast country and there are no limited options for traveling destinations. From north to south and east to west, India has places of all topography and each has amazing characteristics.
There are some places like Kasol, Tosh in Himachal Pradesh that gives the solo backpackers a perfect vibe of solitude. Likewise, leh and Ladakh are a dream destination for every biker enthusiast. Goa, Shimla and Alleppey are the perfect honeymoon destinations.
What could be the best places to visit in India with kids?
When you are traveling solo and couple, there are no restrictions. You can travel the whole day, can eat anywhere, won't have to think twice before taking a decision. You are free to explore.
But when you have kids, things get change. They become your first priority. You plan everything in your trip keeping them in your mind. Which hotel to take, where to eat, where to visit, everything we tend to think keeping our kid's safety and comfort in mind.
Not all places in India are ideal for kids.
In this blog post, I shall share the best places to visit in India with kids. So, when you plan to come India you can prioritise the places.  
Best places to visit in India with kids
Kashmir
India is blessed with beautiful places that will literally makes you feel that you are in heaven. Kashmir in north India is a great place to visit with family.
Though for ages Kashmir has been in political dispute and that makes the place kind of alienate from the rest of the country. But things are in great control now and it is safe for the families.
There are several amazing places where you can take your kids and visit. In places like Gulmarg you can take your kids for outdoor activities and play them with snow.
The best time to visit Kashmir is from March to October. You can also visit the tulip gardens and alpine meadows during this time of the year.
Tips: There are pretty much great resorts and hotels for families to stay. Before booking, do a thorough research and gather every information like the nearby police station, hospitals, keep all the important telephone numbers and do not go for a off road traveling nearby Kashmir when you are with kids.
Darjeeling
The north eastern hill station Darjeeling has some astounding views of mountains and tea plantations. It is one of the best places to visit in India with kids. Also, it is a budget-friendly honeymoon destination in India.
People around the east of India loves to visit Darjeeling for a short weekend trip. Darjeeling has a rich cultural and historical significance in India. It is popularly also known for its toy train ride which kids enjoy the most.
Darjeeling is quite an educational site as well. There are several Buddhists monasteries and British museums where you can take your kids to know about the history of Darjeeling.
Darjeeling is not limited to only nature's beauty, there are zoological parks, aquariums, hillside villages where your kids can see how minimalists and simple life the people lead there unlike the city people.
So, there are so much to do with your kid in Darjeeling.
Agra
We all know what Agra is famous for. Agra is one of the most popular travel destinations in India which is known across the globe. It houses one of the seven wonders of the world – 'Taj Mahal.'
Since, Agra is a historical place with several ancient monuments and wonders visiting with kids will be educational as well as recreational.
Kids love stories, while visiting to these hot spots you can tell the historical stories behind the monuments and buildings.
I have already covered a full blog post on Taj Mahal Travel Tips and Guide – for any assistance you are free to mail me.
Ooty
Ooty is a quiet happening place as a hill station located in the Nilgiri mountains in the south India. It is one of the best honeymoon and family weekend gateway from Bangalore.
The road drive from Bangalore to Ooty is too nice and pleasant. The winding roads, tea estates, open fields and greenery will give your kid a new thing to experience.
You can also take a detour and experience the jungle safari in Bandipur national forest.
Tip: If your kid is above 7-8 years the jungle safari could be an amazing experience for him/her. When traveling with kid, the best time to visit the Bandipur National Park would be during the winter season in India – October to February.
Aurangabad
I have been to Aurangabad in 2019 and it was an amazing journey. Aurangabad is situated the Aurangabad district of Maharashtra state. It is a historical city and is home to the famous UNESCO World Heritage Site – Ajanta and Ellora Caves.
As a parent you should visit Aurangabad with your kid and show them the historical sites and their history. Not only Ajanta and Ellora Caves, there are other places to visit like Bibi ka Maqbara, Panchakki and Daulatabad Fort.
Tip: Again, the best time to visit Aurangabad would be during the winter season in India, especially between November to January. The climate remains pleasant and comfortable for a kid. There are a few good hotels to stay in the city.
If you visit the city, you must try eat at one of the best restaurant 'Bhoj.' I had been to so many restaurants but the food quality at 'BHOJ' is excellent.
Udaipur
Traveling to Rajasthan from Pune via road has been on my bucket list for a long time. I have been to Udaipur once with my parents as a kid and I really don't remember much about the city.
But one thing I know that it is a great place to go with kids, family, solo and couple. It welcomes and fits every type of traveller.
The city of culture and 'Mahals' could be a quite educational visit for kids because the place has so many historical tales. The heritage and tradition of Rajasthan is unique and in our Indian history the Rajputs of Rajasthan has played an important role.
So, if your kid is 10+ the trip could turn into beneficial for him/her.
Tip: Not only Udaipur, Jaipur, Jaisalmer, Ajmer, Jodhpur are an incredible places in Rajasthan to visit. There are so much to explore and experience. A trip to Rajasthan with family could be a little expensive but it worth every penny.
The best time to visit would again be the winter season. It is a peak tourist season so book your travel and hotel stay prior to at least 3 months.
If you have a toddler with you then staying in the major cities like Jodhpur, Jaipur and Udaipur won't be an issue.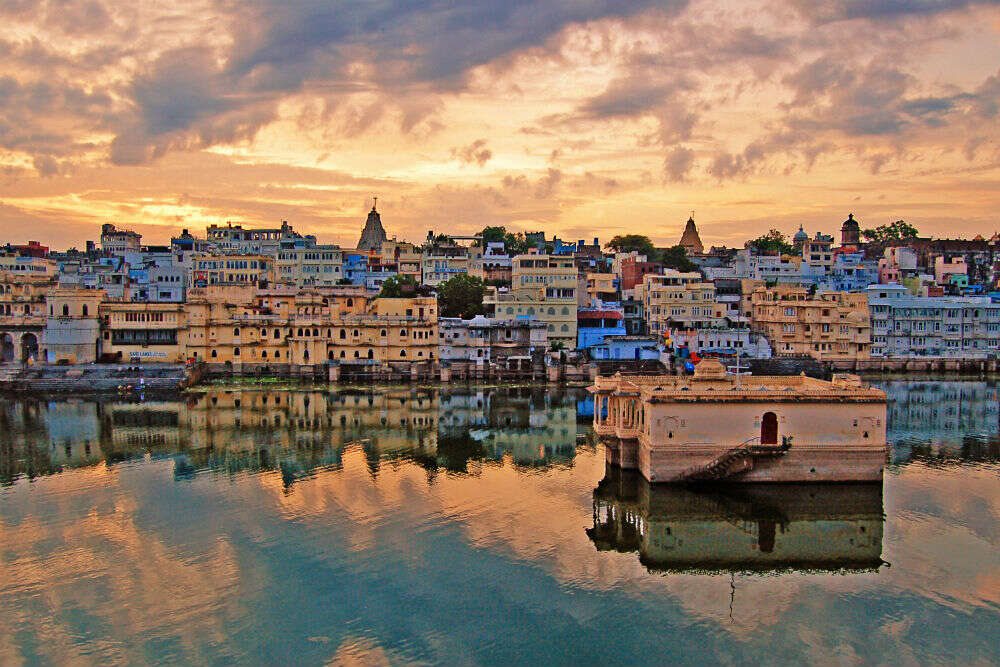 Important Tip: Carry a pressure cooker with you as Rajasthani cuisine might not suit your toddler. Since they are spicy and hot.
Andaman & Nicobar Island
The Andaman & Nicobar Island is one of the best places to visit in Indian with kids. We have read so much about the Andaman island in our books. Let your kid experience a trip to the island, about the Andaman tribes, ocean, and the pristine beaches.
I wouldn't say educational but indeed it is a safe and sound place to take your kid.
Conclusion:
Since the pandemic situation still persists, traveling is no safer like before. I wouldn't recommend traveling with babies or toddlers to any of these places during the COVID situation. But if you have a grownup kid by strictly following the COVID safety protocols you can travel.
I have covered a blog post on complete checklist for safe road trip during COVID-19, if you are planning for a road trip anytime soon please do check out the blog post.
You will get an idea about all the safety measures needed to be taken to keep yourself and your kid protected during the journey.