48 Best Movies on Amazon Prime India to Stream Right Now
Are you looking to watch some best movies on Amazon prime India?
Horror, romantic, drama, anything that you want to watch, Amazon Prime Videos has it all. Netflix and Hulu are a great streaming platform too that are giving a fierce competition to Amazon prime.
My favorite is Netflix, and I am not lucky enough to watch 'Hulu' because Hulu doesn't support in India.
In the Google search engine, you will see a few reputed websites that talk about movies and TV shows that are being streamed on different platforms.
I can name a few that I also sometimes follow in my leisure time like thrillist.com, collider.com, uproxx.com, gamesradar.com. There are indeed many others, but I often look up to these.
Now, what difference does this blog post will make? Why should you skip the other and read mine?
Well, let me tell you that I am an ardent lover of watching movies and TV shows. Being a full-time blogger and content creator, I spent mostly being at home.
So, I can squeeze my daily schedule and take out time to watch something on the streaming platforms.
The list that I have compiled together contains the best movies that I have watched on Amazon Prime and genuinely feel that these are worth watching.
There are tons of movie contents available in Amazon Prime, and searching through them is a real waste of time.
So, this blog post will help you in saving your time, and you might find movies that interest you as per your mood.
Best movies on Amazon Prime India'
(This will gonna be a long post, so stick to it till the end.)
The Aeronauts
So, I did watch this fantastic Amazon Prime original movie yesterday and really liked the story. The movie is visually very pleasing. Both the lead actors Felicity Jones and Eddie Redmayne did justice to their characters.
'The Aeronauts' is inspired by true events that depict the story of a British scientist James Glaisher and his quest to go higher in the sky in a balloon expedition.
More than the performances, the cinematography work is superb. The splendid view of the wide sky with a tiny floating balloon and the other elements of the atmosphere made this film worthy of watching.
The story of two voyagers who experienced the dangers and beauty of the heavenly sky.
The Florida Project
2017's one of the best movies to stream 'The Florida Project' is like a documentary film. Moonee, a six-year-old who lives in a motel with her mother.
Room 323 is her 'magic castle' where she roams freely and carefree. Her mother sells perfume to the neighboring people and tourists, somehow earning her and Moonee's meal.
The film is an intelligent production and storytelling of the 'homeless Americans' through the eyes of a child. Moonee is a trouble-maker yet adorable to watch in a playful mood.
I felt it is Moonee, the little girl who is the center of the story. It is a must-see performance and movie on Amazon Prime Video.
Lady Bird
Lady Bird is a brilliant coming-of-age film by Greta Gerwig. The protagonist how she deals with her problems that shows up surprisingly in her life. How she figures out about the truth of her relationship, her mother, and how she transformed herself through the situations of her life.
The movie will make you soak in tears, make you giggle, and you will love watching.
The Big Sick
The true love story of Kumail Nanjiani and his wife Emily, who falls into a coma shortly after they start dating.
'The Big Sick' is their story written by them. It is a traditional romantic comedy that tells a story about their marriage, real-life, and Muslim parents. It is a different narrative, full of humor and wits.
It is one of the best romantic movies on amazon prime
It's a Wonderful Life
A classic and one of the most beautiful Christmas films of all time. Even if you watch this film each year at Christmas, you will still never get bored out of it.
Do you know, the movie was nominated for five Oscars. Is n't it amazing?
Parasite
Thanks to Amazon Prime for showing one of the most sorted and thought-provoking films that I have ever seen.
'Parasite' winning the Oscar is historic as it is the first foreign-language film to be ever received an Oscar.
The satirical drama film is the ultimate winner because it has shown a simple story in a ground-breaking manner. On Rotten Tomatoes, the film has a rating of 99%. Can you believe it?
From a grassroots level, the story depicts a significant class and economic disparity. I think I needn't remind you of the story.
It is a thriller story where a low-income family makes their way to place themselves into the life of a wealthy family.
It is a proud matter that Oscar now considers giving International films a little more importance.
Manchester By the Sea
I remember watching this film at the theatre in Seattle. It's a family drama where the protagonist Lee Chandler (Casey Affleck), survives with a burden of guilt. There are many flashbacks – scenes of his past memories, of his marriage, a family that we can see.
Through his bitter memories, it is understood why his marriage fails despite being happily married, why he is punishing himself of solitary confinement, why he keeps on suffering.
The movie is slow but will take you into Lee's life and sufferings.
Mother
If you are someone who understands symbolism and imagery in films, then 'Mother' is a kind of movie for you. When I first watched the film, I hardly understood anything. There isn't one meaning of the film. Somewhat several rhetorical meanings.
The concept of reincarnation and creation is vivid in the film, but which action and reaction represent what. For that, you better watch the best horror movies on Amazon prime.
Once Upon a Time in Hollywood
Recently, Quentin Tarantino's one of the most beautiful films 'Once Upon a Time in Hollywood' has been nominated Academy Award for the Best Picture.
Leonardo DiCaprio, as Rick, a TV cowboy who dreams of a movie break and his friend-cum stuntman Cliff played by Brad Pitt, is now his errand boy, still a good friend.
The setting in the film is something to watch for. Tarantino has recreated the Los Angeles of his days, flashy clothes, hippie girls sell cigarettes, the dialect, and everything else.
The end fight of the film is classy and one of the best movies to watch on Amazon prime videos right now.
A Quiet Place
Aliens have invaded the earth, and these creatures are sensitive to sounds. The Abbott family has survived and lived in silence for years now.
But soon, their peace turns out to be in a monstrous attack. The family and their kids running and fighting against these creatures trying to protect each other.
This is John Krasinski's directorial debut that is successfully a nerve-wracking film to watch.
The Handmaiden
'The Handmaiden' is a masterpiece of Korean cinema. As you know that recently, 'Parasite,' a Korean film, has nailed the entire film world and got the most respectable honor Oscar Award for the Best Picture.
'The Handmaiden' is a brutal and revenge story where a con man dubs a rich man and his niece out of their massive wealth. The movie is dark, full of sexual innuendo and deaths. Still, it is one of the finest Korean films that you must watch now on Amazon Prime Video 2020.
Paterson
Jarmusch's movie 'Paterson' tells the story of a guy named Paterson who drives a bus around the city and writes poetry in his small diary. He has no change in routine in his life.
He finds solace in writing poetry in his spare time. He has no interest in earthly materials and money. He cares little about publishing his art.
It's a movie about work and art. The movie has a flow. I watched the film in 2018 on Amazon Prime and find it amusing and different.
Into the Wild
'Into the Wild' is a movie that I love to watch whenever I feel down. It is based on a book of the same name by Jon Krakauer talks about how a wanderer Chris McCandless, died in his camp in Alaska in pursuit of the great wilderness.
It is a great movie to watch for travel enthusiasts.
The Upside
Kevin Hart and Byran Cranston's 'The Upside' is a remake of the 2011 French film 'The Intouchables.' If you have watched the French film, then you would probably give it a miss.
But those who haven't will likely to watch it on Amazon prime to see the beautiful, friendly relationship between a white and a black man.
Forrest Gump
I probably watched Tom Hanks classic 'Forrest Gump' 3-4 times, and each time I watch, it feels great. It is a heartwarming film about a little weird guy with a big heart who achieved success in his life in the way of finding the good.
For years, this film has remained one of the top 100 greatest movies of all time, according to IMDB.
Aamir Khan's upcoming movie in 2020 is the remake of 'Forrest Gump' in India.
Little Women
Greta Gerwig's 'Little Women' is a protest against a society that underestimates women and demeans them.
She has taken a universal conflict 'issues of feminism' and economic reality of the 19th-century women through four characters.
Jo has moved to New York, who aspires to become a writer but struggles to find a place in the literary world that believes that a woman's financial independence comes only through an alliance with a man.
Amy, who studies painting, happens to lives in Paris with her old-fashioned aunt.
Meg is a wife and mother to two children. Lastly, Beth is sick and weak by the body but still stays strong by the soul.
It is a beautiful film that focuses on the aspirations and dreams of four sisters and their position in society. Each character represents a new model of femininity.
So, I would want you to watch this wonderful movie on Amazon Prime Videos.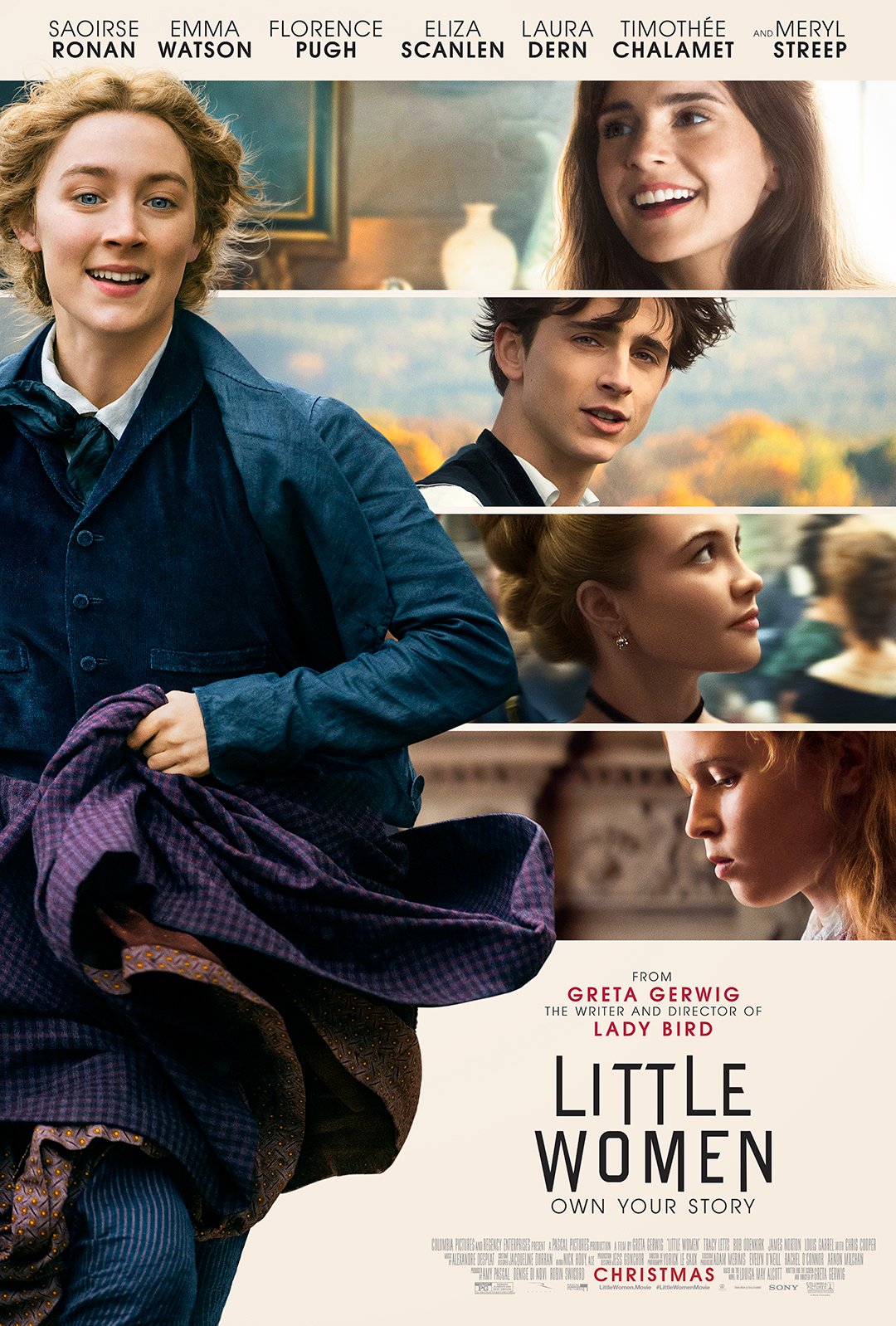 Joker
Todd Phillips 'Joker' is undeniably the best film of 2019. In the scene, Arthur Fleck seated in front of a mirror and pulled his mouth up and down. I felt that an extreme one right at the beginning of the film.
Arthur is a clown, who is not at all funny and struggles to make money from his part-time profession. He also suffers from a weird condition where he laughs uncontrollably when something upsets him.
Amid everything, he aspires to become a stand-up comedian, but soon the film takes us into his world of insanity that swells into violence.
The two hour narrative of the film is highly disturbing that focuses on Arthur's anguish.
Phoenix gave a power-packed performance that reminded me of late Heath Ledger. Phoenix gracefully and effortlessly portrayed Arthur Fleck's distressing journey from a mere empathetic clown to a vicious madman.
The Curious Case of Benjamin Button
My husband suggested me to watch this film, and on a lazy Sunday afternoon, I watched the film on Amazon Prime.
Brad Pitt's 'The Curious Case of Benjamin Button' is an alluring and romantic film that is poetic, odd yet has a beauty in the character portrayal.
More than a love story, I believe this film is about the journey of a man from his weird birth to his bizarre death.
If you haven't yet watched the film, do stream it now. It is an unusually different film with a great cast.
Nightcrawler
Jake Gyllenhaal in 'Nightcrawler' was scary. His character Lou Bloom is dark, and an opportunist. He has no emotional bond with anyone, and what he does is creepy and nerve-racking. 'Nightcrawler' is Jake Gyllenhaal's one of the best performances.
You Were Never Really Here
Joaquin Phoenix got the Oscar Award for the best actor in JOKER. I have seen a few other movies of him and amazed by the fact of how proficient his acting skills are.
2017 'You Were Never Really Here' portrays the life of a hitman Joe, who has committed crimes and killed people. He got a contract of saving a Senator's daughter where things get messed up and end up in a tragedy.
If you have watched JOKER, I am sure you will see the other performances of Joaquin too.
Photograph
'The Lunchbox' director Ritesh Batra has brought us another unconventional film.
It is a story between an aged bachelor photographer who takes photos of passers-by near Mumbai's Gateway of India and Miloni, who is preparing for her CA.
The story follows how the two meet by fate and how a single photograph binds them in a mysterious tale of their life. In the film, both the contrasting actors have performed fantastically.
'Photograph' has changed the dynamics of love stories shown in Bollywood. A sensible film that shines a light on two tender souls who are different from each other in all angles (caste, creed, and desires) developed mutual attraction.
It is one of the best movies on amazon prime India.
The Lost City of Z
'The Lost City of Z' is a mysterious tale of colonial exploration where a British military man sets out in the journey of exploring the Amazon rainforest in quest of a civilization.
Charlie Hunnam as Percy, gave a convincing and marvelous performance throughout the film. This isn't the masterpiece but I can assure you that you will like the Jungle expedition of Percy.
What's Eating Gilbert Grape
An exceptional performance by Johnny Depp as Gilbert and young Leonardo DiCaprio as his retarded brother.
The young Gilbert Grape is stuck with the family burden who lives in a small town and works at a grocery store.
Gilbert still finds his happiness in his unfit family, where his mother is 500 pounds and hasn't left the house and his retarded brother of whom he takes care of.
'What's Eating Gilbert Grape' is one of the best movies on Amazon Prime to watch ever.
Zodiac
Based on the real-life zodiac killing, the movie is one of the best movies to watch on Amazon Prime. Three great actors Robert Downey Jr as Paul, Jake Gyllenhaal, as Robert and Mark Ruffalo as police officer Dave are there in the movie.
There are clues, suspects, threats of further violence in the film. The craftsmanship can be seen in every shot and character development.
The continuous police procedure of trying to crack the code or interviewing the suspects and discussion between the lead actors are exciting and quite gripping.
David Fincher's 'Zodiac' is indeed one of the greatest movies of this century.
Raging Bull
Martin Scorsese's classic biographical sports drama 'Raging Bull.' Robert De Niro won his Oscar for the Best Actor. If you have watched the legendary film 'Rocky' I am sure you would love to watch 'Raging Bull' too.
You don't have to look for the film anywhere as you can stream it on Amazon Prime and also on Netflix.
We Need to Talk About Kevin
'We Need to Talk About Kevin' is a film focusing on parenting, communication, and steps to be taken if you find your kid is troubled.
Kevin is a troubled son of Eva, who watches her life getting disturbed as her son grows and becomes a sociopath. She realizes that Kevin is a danger to society and maybe to her as well. Both the mother-son relationship has grey areas, and both the characters are complex.
You need to watch this film and understand why this one of the best movies to watch on Amazon Prime 2020.
A Beautiful Mind
A story is based on the Mathematician genius John Nash, his journey, his struggle, his achievement, his love life, and his suffering from Schizophrenia.
It is a very inspiring real-life story who has won the Nobel Prize and has a significant contribution to the field of mathematics.
The Theory of Everything
'The Theory of Everything' is Stephen Hawking's biopic, where Eddie Redmayne plays Stephen Hawking and Felicity Jones as his first wife.
Everybody isn't a book reader, so watching this film is a way to know about the genius Stephen Hawking's life and his scientific achievements.
I watched the film a few weeks ago, and I felt that the film talks more about Hawking's personal life than his career or significant achievements. Even the same has been told by Dennis Overbye in The New York Times.
Eddie Redmayne was a pleasure to watch. He carried the entire movie as Stephen Hawkings so beautifully.
A definitely must-watch movie on Amazon prime videos.
Whiplash
The story of a passionate young drummer and his teacher. The journey of aspiring drummer Andrew Neyman, who practices hard to give his best shot in drumming but every time he fails to pleases the infamous and violent Mr. Fletcher.
The best part of 'Whiplash' is to watch the ending, his electrifying solo drumming.
This movie is worth a shot on a holiday afternoon.
The Polar Express
'The Polar Express' is one of my all-time favorite Christmas movies. A young boy who boards a train on Christmas and experience an extraordinary journey to the North pole to meet the Santa Claus.
The movie reminds me of my childhood and a very heartwarming Christmas movie for kids to watch on Amazon Prime.
Crazy Rich Asians
The American contemporary romantic comedy film has an Asian cast. What happens when Rachel Chu travels to Singapore with Nicholas Young to meet his family?
A great movie to watch on only on Amazon Prime Video.
The Kite Runner
The movie 'The Kite Runner' is based on the same-titled novel by Khaled Hosseini. The story of two young boys from the city of Kabul in 1978 before the anarchy of the Russians, the Taliban and the Americans.
Two friends Amir and Hassan, who are like brothers and Hassan, is the best kite runner in the neighborhood. The movie shows beautiful Afghanistan before the chaos started to happen and the Afghanistan of today that is barren and full of disorder.
The film has carved the story of friendship between Amir and Hassan beautifully.
I have read the novel as well the watched the film. Although many things are missing in the film which is of course natural. You can't find everything in 2 hours of movie.
The Report
When FBI agent performs an investigation into the CIA's Detention and Interrogation Program after 9/11. I love watching Adam Driver performing on-screen. I loved his film 'Paterson' and 'The Report' as well.
So, I believe this film represents political satire in many ways.
Brittany Runs a Marathon
2019 Amazon Prime original movie 'Brittany Runs a Marathon' is a story about Brittany, who lives in New York City with a roommate. She is an overweight party lover and lazy person who sets out an aim to lose weight by running in the New York City Marathon.
She set a moto to train and exercise daily. She joins a team where she made friends, get motivated every day, and started feeling good about herself.
It is a wonderful, inspiring, and motivational film to watch on Amazon Prime.
Inception
Christopher Nolan's one of the best science-fiction movie 'Inception' stars Leonardo DiCaprio as a professional thief, and he has a special gift. He steals information by infiltrating into the target's subconscious.
Inception will always remain one of the best movies ever in centuries. The movie is intriguing yet entertaining and has crossed the boundaries of great filmmaking.
'Tenet' is going to release soon directed by Nolan, and people are already assuming that the movie is similar to that of 'Inception.'
The Last Black Man in San Francisco
The story is about a young black man who tries to reclaim his childhood home, a Victorian house in a neighborhood of San Francisco. It's a quiet emotional movie and indeed a piece of art.
It shows the relationship a person has with his home and city.
'The Last Black Man in San Francisco' is yet another one of the best movies to watch on Amazon prime video.
The Perks of Being a Wallflower
The story tells through the eyes of a boy named Charlie. He loves reading and writing. He writes about his good and bad times, his love, and his mental breakdown.
The film shows the journey of Charlie who has a reserved, introvert, and extremely rigid personality and how, with a few important persons in his life, has changed him.
Emma Watson has played a lively character who helped Charlie in the transformation.
Saving Private Ryan
Saving Private Ryan is my father's favorite war movies. Whenever I go back to my hometown, he asks me to if he can watch the movie on my laptop or not and I happily let him watch.
There are several historical war concerned movies on Amazon Prime and among the many, I think 'Saving Private Ryan' is the one that you should watch.
The story of terrified young soldiers who are new to combat and in a situation are exposed to face the fire from the enemies.
Beautiful Boy
A heartbreaking chronicle of a father and son experiencing addiction, relapse, survival, and how the family copes during the time when his son was suffering for years.
The only thing to watch in the film is young Timothee Chalamet's prowess in perfectly portraying Nic's addiction to meth.
After watching his 'Call Me by Your Name,' I have become a fan of his work.
The Imitation Game
During world war II, a British Mathematician tries to decode a German enigma code. It is based on the real-life story of cryptanalyst genius Alan Turing. It is quite an inspiring movie to watch how he cracks the mysterious code.
You can stream it now on Amazon Prime Video and enjoy watching one of the greatest achievements of Alan Turing.
A Call to Spy
I watched "A Call to Spy" a couple of days ago, and I find it a very nice movie. However, I am not convinced with the IMDB rating and shocked that they have rated the film so low.
Anyways, "A Call to Spy" is a film based on WWII, when a group of women spies were hired and trained to decode the German conspiracy. It is a film inspired by Noor Inayat Khan's real-life, played by Radhika Apte in the film.
I am adding this film to the list of best movies to watch on Amazon Prime because I feel we should know about women spies who fought bravely during WWII.
Gravity
Gravity is an amazing science-fiction movie that has won several awards and appreciations for its best music, picture, acting, etc. Sandra Bullock plays an astronaut who had a roller-coaster ride in space.
The movie has given us an amazing cinematic experience, and once again, Sandra Bullock has proven why she is one of the best actresses in Hollywood.
Bohemian Rhapsody
A biographical movie made actor Rami Malek a superstar solely because of his impeccable performance as legendary singer Freddie Mercury. The movie depicts his journey, struggles, skyrocketing success, sexuality, and troubled relationships.
The movie takes us on a musical ride; it's emotional, inspiring, heartbreaking as well. We all knew how good a singer was Freddie Mercury, but we never knew his story. This movie made us feel and understand his side of the story.
Minari
The award-winning film 'Minari' is a beautiful Korean drama film that tells the story of a Korean American family together moves to America in search of living an American dream.
It is a very humble family story that overcomes every odds together and tries to find small happiness.
Lately, I have been watching Korean drama films, and I find them very appealing.
Newton
'Newton' is a wonderful Bollywood film to watch about a government employee who is sent to a politically sensitive zone for election duty where he sees disparities.
Rajkumar Rao has given the best performance of his career in this movie. 'Newton' is indeed one of the best movies of Hindi cinema that is worth a watch.
Shershah
'Shershah' is the new Bollywood movie based on the life of Paramvir Chakra received Late Indian army, Vikram Batra. It's a wonderful movie where Siddharth Malhotra has given a sweet performance.
I have watched several war movies; this movie is genuinely one of the best in Bollywood.
Portrait of a Lady on Fire
The French movie 'Portrait of a Lady on Fire' is the best LGBTQ movie I have ever seen. It tells Marianne's beautiful yet painful love story, a painter who is commissioned to draw a portrait of Heloise, the bride-to-be.
The movie is set in France, 1770. The best thing about the movie is there aren't much dialogue neither useless distractions. The focus is only on the two main characters and their gaze.
If you haven't yet watched this film, you have definitely missed something best.
Sound of Metal
Academy Award movie for the best picture category, 'Sound of Metal' is one of the best movies on Amazon Prime India to stream now. It's the story of heavy metal drummer Ruben and his experience with hearing loss.
It's a different genre of film that is hard to explain until you watch it.
Conclusion:
So, this is the list of best movies on Amazon Prime, in my opinion. I have watched them all and based on my understanding of movies, I find them the best right now.
Every week Amazon adds new movies to their list and I will keep updating this list with more best movies for you to watch.
Thank you, and keep supporting by sharing!