How can I possibly not write something about the legendary filmmaker Satyajit Ray? Trust me, we Bengalis are crazy about two personalities of whom we are so proud, Rabindranath Tagore and Satyajit ray.
For millions of Indians and film enthusiasts, watching the films of Satyajit Ray might be some sort of educational. For me, it's like I have grown up watching his movies on our black and white television at home.
There isn't a single film by Satyajit Ray that my mother hasn't watched. Back in my younger days, movies like Gopi Gyne Bagha Byne, Heerak Rajar Deshe were my all-time favorite movies of Satyajit Ray.
While growing up, I took the film studies as one of my general subjects in college; it is then I watched and tried to understand the depth of his movies.
He has directed more than 36 movies that includes feature films and documentaries. He has made the cinema world and filmmaking into something epic.
I shall be sharing with you all the top 10 best movies of Satyajit Ray that you can't miss if you are fond of movies.
Best Movies of Satyajit Ray
Pather Panchali
IMDB Rating: 8.6
Story by: Bibhutibushan Bandhyopadhya
Awards: National Film Award for Best Feature Film
Pather Panchali is the directorial debut film and the first film in The Apu Trilogy of Satyajit Ray. Pather Panchali depicts the story of a young boy Apu, his elder sister Durga and their harsh life in the Nischindipur village in 1910 in Bengal.
The story follows Apu and his family living in destitute in the village when his father Harihar earns a meager salary as a priest.
Soon, he decided to travel to the city to earn more and make a good living with his family. In the meantime, it is only Apu, Durga, and their mother who are trying to make a living in minimalism.
Durga and Apu share a lovely bonding; they spend quality time together in playing, running after the candy man, watching folk theatre, sitting under a tree quietly, listen to the sound of the train's whistle. Their life is revolved around all these small and simple joys despite living in poverty.
As the days are going, they are unable to live in peace and became penniless. The harsh village life soon hit the family hard and break them emotionally after an incident.
Aparajito
IMDB Rating: 8.3
Screenplay: Satyajit Ray
Awards: BAFTA Award for Best Film
Aparajito is the second film in The Apu Trilogy, and the story starts from where Pather Panchali ended. After the unfortunate demise of Durga, Apu's elder sister, the family decided to move to Varanasi, where Harihar started his priest business in the ghats of Ganges.
'Aparajito' follows the chronicles of Apu's life from childhood to adolescence. Apu is seen exploring the narrow alleys and shrines of Benaras and running around.
Along with Apu, 'Aparajito' is also a tale of his mother Sarbajaya, played by Late Karuna Banerjee, how her life paves into after moving from rural Bengal to the ghats of Benaras.
Their life takes another blow when Apu loses his father; they return to Bengal to settle down.
Apu learns the practices of priests, but his interest lies in academics. Soon, he excels in studies that gave him a scholarship of 10 rupees for further studies in Kolkata.
So, Apu finally left his village, mother and moved to the city to fulfill his dream and study furthermore.
We also get a glimpse of the loneliness and despair of a mother who is longing for her son.
Apur Sansar
IMDB Rating: 8.5
Screenplay: Satyajit Ray
Awards: National Film Award for Best Feature Film
Satyajit Ray's 'Apur Sansar' is the last part of 'The Apu Trilogy.' In Apur Sansar, the story follows the Adult life of Apu played by Soumitra Chatterjee, who is now living in a rented house in Kolkata.
He soon marries Aparna, played by Sharmila Tagore and love blooms between the two. But his love life is short-lived as Aparna dies while giving birth to their child.
Apu disheartened and broken held the child responsible for Aparna's death and ran away, leaving the child to his maternal grandparents. For years, he traveled to different places of the country and shunned all his wishes and dreams that once he had.
How will Apu reunite with his son? Or even after years, will he keep continue to blame his son for Aparna's death?
The Apu Trilogy of legendary filmmaker Satyajit Ray ends with 'Apu Sansar'- a story of love and loss.
Ghare baire
IMDB Rating: 7.6
Story By: Rabindranath Tagore
Award: National Film Award for Best Feature Film in Bengali
Ghare Baire is a Rabindranath Tagore adaptation of 1916 novel of the same title. The movie portrays two main characters Nikhilesh and Sandip, and their different ideologies on politics, western culture, and freedom.
Apart from these two characters, there is another important character Bimala, Nikhil's wife. An ideal housewife who has never set a foot outside her home and marriage.
Nikhil, who is a liberal husband, always respect and support Bimala. But with Sandip's entry, who is a close friend of Nikhil, the story turned and gets complicated.
Sandip's ideologies about the world, women, and every other thing invokes a sense of interest and hesitant in the mind of Bimala.
Since, the movie is a Tagore's adaptation novel, 'The Home and the World' it is considered as one of his most complex and controversial works. There can be several interpretations of the three characters.
Satyajit Ray has tried his best to bring the level of complexity in his film too. Incorporating all these elements that the novel represents is hard to implement in the filmmaking.
I am an ardent reader of Tagore's work, and I have read the novel thoroughly. The interpretation of the film and the novel are indeed different.
Ray has focused more on the conversations between the characters to balance the ambitious characters and complexities at a different level.
To understand 'Ghare Baire' you have to understand the mind of Bimala. Victor Banerjee, Soumitra Chatterjee, and Swatilekha Sengupta played their iconic role tremendously well.
Charulata
IMDB Rating: 8.2
Story By: Rabindranath Tagore
Charulata is yet another Satyajit Ray's movie that is an adaptation of Rabindranath Tagore's novel 'Nashtanirh (The Broken Nest).
Charulata is the story of a young, educated, and intelligent woman who got married to Bhupati into an upper-class family.
Nothing much to do Charulata spends most of her time in reading and wants to nurture her artistic side.
There occurs trouble in marriage when Amal Bhupati's cousin arrives. Amal is a free-spirit, jovial person who has great literary thoughts and interest in art.
Since Amal and Charu are both the same age, they become more than friends, and Charu grows exceptionally fond of him.
Ray has brought up several beautiful songs to lift the movie. Madhabi Mukherjee as Charulata is the heart and soul of the movie. She has gracefully and sensibly played the character Charu.
If I say Tagore's Bimala is a complex character, Charulata is a more free-spirit character.
Teen Kanya
IMDB Rating: 8.1
Story by: Rabindranath Tagore
Ray's 'Teen Kanya' is based upon short stories by Tagore. The movie got released in 1961; Ray made this film as a tribute to Tagore. He portrayed three beautiful different short films.
The Postmaster is the first story which is about a young orphan girl, Ratan, who works in the village postmaster's house as a maid.
Nandalal is the new master of the postmaster from the city. He is kind to Ratan and teaches her Bengali so that she can read and write.
Monihara (The Lost Jewels) is the second story, which is a psychological thriller where Manimalika is married to a rich man. Still, she is stuck at home, and her jewelry becomes her only companion.
Weird, isn't it.
The third story is 'Samapti' in the film, which is a love story. A love story of Mrinmoyee and Amulya.
Goopy Gyne Bagha Byne
IMDB Rating: 8.8
Story by: Upendra Kishore Roychowdhury
Awards: National Film Award for Best Feature Film and Best Direction
Satyajit Ray's Indian fantasy-musical comedy film 'Goopy Gyne Bagha Byne' is a 1969 one his most magical film to watch. The film is based on two characters Goopy Gyne and Bagha Byne, and their musical adventures.
Goopy Gyne Bagha Byne is the illustrated story of Ray's grandfather Upendra Kishore Roychowdhury, and it first appeared in the Sandesh magazine in 1915.
Ray wanted to make a film based on the same story, which will be meant specially for children. He gave his music and lyrics himself in the film.
I said earlier it is one of his magical films because Ray has incorporated rhythmic dialogues with music throughout the film. None of the films in the Indian cinema has ever tried this kind of filmmaking.
The story follows Goopy, a singer and Bagha, a drum player. Both are exiled from their villages, and when they met, they make the team.
They encountered a group of ghosts who were highly impressed with their singing, so the king of the ghosts (bhooter raja) grant them three boons.
What are they?
For that, you need to watch the film. I amn't sure this is available on any streaming platforms, but you can buy a DVD if you have a DVD player at home.
After the massive success of Goopy Byne Bagha Byne, Ray made a couple of sequels – Hirak Rajar Deshe and Goopy Bagha Phire Elo (which is directed by his son Sandip Ray).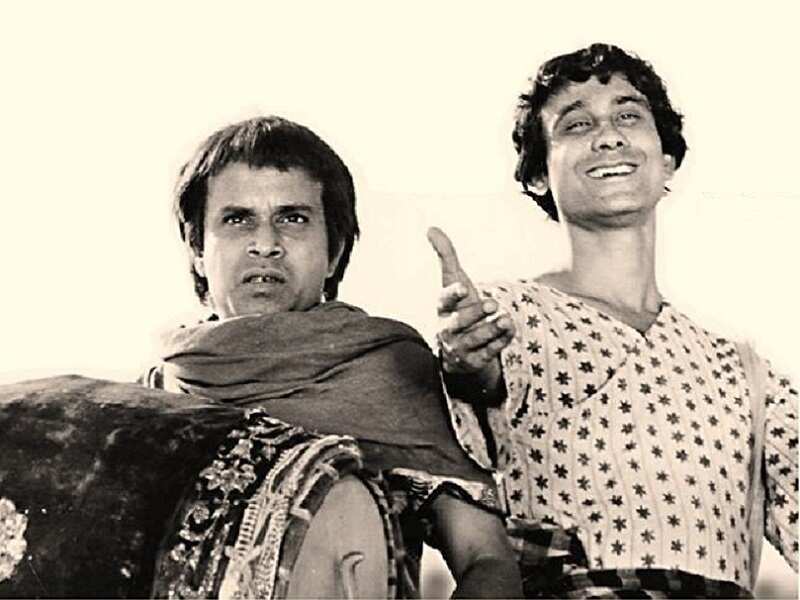 Sonar Kella
IMDB Rating: 8.4
Awards: National Film Award for Best Feature Film in Bengali
Ray's 'Sonar Kella' is one of the greatest films of the Indian cinema and a splendid work of art. Satyajit Ray has written a series of science fiction and detective short stories.
The Adventures of Feluda (detective novel) became so popular that he thought of making a film based on his Feluda detective stories. 'Sonar Kella' is one of the popular Feluda stories that won two National Awards.
The story follows a young boy Mukul from the North Kolkata, who remembers his past life in Rajasthan. He talks about a golden fortress, gems, and stones which, according to him, are buried in his house.
Mukul, along with his parapsychologist Dr. Hemanga Mohan Hazra, went to Rajasthan in search of his past.
But when two criminals learn about Mukul from the newspaper, they kidnaped Mukul, which happens to be the wrong boy. Here enters Feluda (Soumitra Chatterjee), who takes the job of saving the boy and capture the two criminals.
Most of the Bengalis kid has a great liking and fascination for 'Feluda's detective stories.'
Mahanagar
IMDB Rating: 8.3
Story by: Narendranath Mitra
Awards: National Film Award for Third Best Feature Film
Satyajit Ray's 'Mahanagar' is a 1963 drama film which is based on the short story 'Abataranika' written by Narendranath Mitra.
The story follows a housewife Arati (Madhabi Mukherjee), who takes up the job of a saleswoman to meet her financial needs and by going against the traditional virtues of being a homemaker.
As the name suggests, 'Mahanagar' Ray explores the changing dynamics of society. The orthodox notion that 'a woman's place is in the home' has been uprooted and introduces a female character who is independent, educated, and can also support her family by stepping outside into the world and facing it.
The portrayal of a perfect housewife character by Madhabi Mukherjee has outshined every other character in the film. Her transformation from an obedient, ever-smiling housewife to a fierce and confident young woman is incredible.
If you watch this, you will understand all the social strata, the evolvement of a female from outside her house, etc.
Shatranj Ke Khilari
IMDB Rating: 7.7
Awards: National Film Award for Best Cinematography and Best Feature Film
Ray's 'Shatranj Ke Khilari' is a landmark film in the Indian cinema. The film begins with a narration of the socio-economic scenario in Lucknow during the rule of Nawab Wajid Ali Shah, played by Amjad Khan.
More than the state affairs, he was very much fond of cultural art. The story is mainly about two affluent noblemen of his kingdom, Mirza Sajjad Ali and Mir Roshan Ali, who are addicted to the game of chess. They neglected their family and state responsibilities over chess.
The movie is a masterpiece of filmmaking. It will transform you into the world of nawabs and Lucknow of that era.
This would probably is the best performances by Sanjeev Kumar and Syed Jaffrey.
Ray's 'Shantranj Ke Khilari' is based on the short story of the same name by Munshi Premchand, and it is indeed a rare gem of a movie in the history of Indian cinema.