Do you want to save your time in searching the best Indian web series to watch?
The Indian Government has announced the lockdown extension after 21 days to eradicate the virus from spreading. Apart from all the household chores, cooking WFH, how will you be spending your time?
Indian web series has created a lot of buzz in the entertainment industry. A series of episodes that tell a story and allows the audience to watch at their convenience.
Even two years ago, the concept of web series in India wasn't so popular among the audience.
Many small production houses have now the advantage of creating their web series with new actors and feature it on various video streaming platforms like Zee5, ALT Balaji, Amazon Prime, etc.
The audience that these web series targets are the youth. Eventually, with more fresh availability of content, it has taken over the daily melodramatic TV soap serials.
In fact, if you see the web series business is becoming more competitive and challenging in terms of bringing to the audience new stories and perspective of imagination.
So, there are many Indian web series accessible to you these days. Now, you can't watch all. No one has that much time to watch all the web series.
So, if you are looking for suggestions that will eventually save your time, please continue reading the article.
Best Indian Web Series of 2023
Gullak (IMDB Rating: 9.2)
I took the subscription of Sony Liv to watch the India-Australia test series. Meanwhile, I happen to watch a beautiful family-oriented Indian web series, "Gullak."
I love watching web series, and I watch them all, but somehow, I missed "Gullak." The web series has 2 seasons, and both the seasons are about a middle-class family, Mr. & Mrs. Mishraji, and their two sons Annu and Aman.
The story is narrated from the perspective of a gullak, which means piggy bank.
It narrates the various struggles of the Mishra family and their imperfect relationship, which is the story of every middle-class household in India. Most importantly, in every tiny and little fight or argument, there is love that never changes.
Why did I like the series so much?
Because it is so relatable and talks about the basic issues that a middle -class family faces, there are primarily four characters, and all of them performed like they are living the moment.
Scam 1992 (IMDB Rating: 9.4)
After completing "Gullak," I jumped into binge-watching another one of the most talked-about Indian web series of 2020, "Scam 1992".
The web series is inspired and based on the real-life 1992 scam of Harshad Mehta. The Hansal Mehta directorial web series is so tempting, engaging, well-directed, and lead actor Pratik Gandhi has given his career's best performance.
Pratik Gandhi as Harshad Mehta deserves all the kudos.
The ten-episode web series has given not only a detailed life sketch of Harshad Mehta rather represented the dirty politics, the role of journalism, and government officials' callousness on the verge of the country's momentous change.
Paatal Lok (IMDB rating: 8.7)
The Amazon Original web series 'Paatal Lok' is released on 15th May, and it is gaining popularity for its interesting thriller story. 'Paatal lok' has a stunning story that is executed dramatically.
A dark portrayal of the Delhi Police investigation on four accused murderers that opens several hidden chapters of the 'swarglok.' The prime protagonist of the series is Hathi Ram Chaudhary (Jaideep Ahlawat), a flawed character who unfolds the truth connecting several prevalent issues.
The best fact about 'Paatal lok' is the direction and the tight narration. There is not a moment when you will feel dragged. Also, it has touched several prevalent social issues of our society through the four accused character.
The issues that we read or hear going around at some corner of our country like mob lynching, caste discrepancies, northeast provocation, biased religious judgments, and inefficiency of Indian media.
Indeed, a must-watch web series for you too.
Human ( IMDB RATING: 7.5)
Human is the new web series screening on Hotstar Special which features Shefali Shah and Kirti Kulhari in the lead. The plot is based on the dark world of medical malpractices and the unethical drug trials that cost the lives of thousands of innocent people.
The series reminds me of how every actor has delivered their best in their respective roles.
But, the most interesting performance that stands alone is Dr. Gauri Nath played by Shefali Shah. Her voice modulation, effortless charm, evil character and the greed for power, everything exhibits perfectly through her character.
However, I was expecting a different ending, still worth watching web series.
Sacred Games (IMDB rating: 8.7)
The name 'Sacred Games' is not unknown to anyone who loves movies and TV series. Just a few days back, Sacred Games season 2 was out, and it seems this was Netflix's one of the highest ever investment.
Sacred Games is one of the first best Indian best web series to watch undoubtedly. It will literally, glued you to stick with it until the episode is over. The popular series has several good actors like Nawazuddin Siddiqui, Pankaj Tripathi, Saif Ali Khan, Kalki Koechlin, Radhika Apte, etc.
The series is complex, dark and has a layered story for each character. Season 2 is way lot more complicated than season 1 I believe so. There are a lot of details to explore in the series. It shows that such intriguing characters and narrative is the level of Indian web series now.
The ending of Sacred Games season 2 has left many open questions which indicates that there will be a season 3 in the process.
Delhi Crime (IMDB rating: 8.5)
Netflix's Delhi Crime, which is a seven-episode series, based on the real-life one of the most gruesome gangrape incident happened in Delhi on December 2012.
The series has been created incredibly well and with much attention to the Delhi police-criminal story.
The narrative was perfectly woven in collaborate with all the characters. Especially, Shefali Shah, who played DCP Vartika Srivastav, the protagonist of the show. The series has also mocked the inefficiency and callous attitude of the Delhi male police department.
Also, how ill-equipped, undertrained, and understaffed the department is, resulting in a delay in solving the cases quickly and proficiently.
Delhi Crime is one of the best Indian web series on Netflix to watch on Netflix.
Kaun Banega Sikhawati
Kaun Banaga Shekhawati is a popular Indian television drama series, which airs in Sony Liv.
This is a new web series featuring multiple stars from the entertainment industry. The plot revolves around Raja Mrityunjay, the King of an old kingdom in Rajasthan, who has four daughters and none are in a good relation with the Raja.
The palace has come in notice of the government because of unpaid taxes for years. Raja has to pay 32 crores of tax. How will he pay when he has no wealth left. Can the four daughters be able to save the palace?
It is a pleasure to watch such web series with family.
Special Ops (IMDB rating: 8.7)
Neeraj Pandey's thriller series 'Special Ops' that is streaming on Hotstar, is totally worth a watch in the 21 days of lockdown in India.
Kay Kay Menon, who is an intelligence officer has created a team of brilliant agents who are chasing the whereabouts of a terrorist leader who attacked the Parliament in 2001, Mumbai in 2008 and involved in the Kashmir terror too.
We have seen other similar movies of Neeraj Pandey too like Baby, Naam Shabana, A Wednesday, Special 26 and many more. In 'Special Ops' it is Kay Kay Menon who is the lead actor and rests all supporting actors have acted well too.
You can definitely add this amazing web series on your list of watch.
Yeh Meri Family (IMDB Rating: 9.2)
TVF's Yeh Meri Family is a beautiful, fresh, nostalgic, and lovely web series that will take you to your good old teen days.
A story about a family that we all could easily resemble, especially kids of the 90s. The theme of the series is 'importance of family, mother, father, and the relationship that siblings share.'
The writer has smartly incorporated small things like playing Mario and Monopoly, games of FLAMES to find out lovers, a best friend with whom we share everything, WWF trump cards, and so many other minor things with which we could connect ourselves.
Yeh Meri Family is more of remembrance to us of the old days that we used to do during summer vacations. It is like visualizing those golden moments of our life one more time.
So, not only does Netflix and Amazon Prime has brought to us some of the best Indian web series. Other OTT platform like TVF is also trying to make its mark in this business to give its audience something best worth remembering.
I bet 'Yeh Meri Family' is one of the top Indian web series that you can enjoy watching.
Kota Factory is one of the most mature and best narratives of web series which has been filmed in black and white. It is an educational irony based on IIT aspirants and their daily struggle life in Kota.
An engaging web series which tells a realistic story of how the IIT coaching schools in Kota is a business and how millions of IIT aspirants are running to Kota to fulfill their and mostly their parents' dream.
The series follows the story of Vaibhav Pandey played by Mayur More, whose subtle and powerful character portrayal is highly compelling. Also, his companion Meena (Ranjan Raj) and Uday (Alam Khan) deserve an appreciation in doing justice to their character.
How can I not say about Jeetu Sir aka Jitendra Singh, who shines as the problem solver of all the aspiring student
A must watch one of the best Indian web series.
Also Read:
TVF's Hostel Daze (IMDB Rating: 8.7)
TVF's 'Hostel Daze' is a beautiful web series on college, hostel days, and hostel friends. It is a laughter ride through the adventures and misadventures of friends who becomes your family in happiness and sadness.
It is a light-hearted and fun web series that TVF has brought to its viewers and undoubtedly has inflicted upon us our old memories.
There are a few characters like Jhantu, aka Jatin, whose performance is laughable. I loved the character Chirag who is a lovable and shy kid with a good heart. There is Shubham Gaur as Rupesh whom we often see on Youtube giving Bollywood movie reviews for Mensxp.
Hostel Daze is perfect for the young adult who would love to have a journey back to their college days memories.
If you have missed this amazing web series, in any case, I would recommend you to watch it now on Amazon Prime Videos.
Read More:
With Netflix and Amazon Prime, we have Hotstar, which is India's biggest OTT platform. Criminal Justice is Hotstar's Original web series, which is a crime-prison drama an official adaptation of BBC's same name series.
Vikrant Massey, played the protagonist here, a young MBA aspirant good lad who got allegedly accused of murdering a girl.
Criminal Justice is more focused on how the life of a prisoner looks like in an Indian prison. With goons all around, even a good-heart guy can also get change to survive that kind of horrid environment.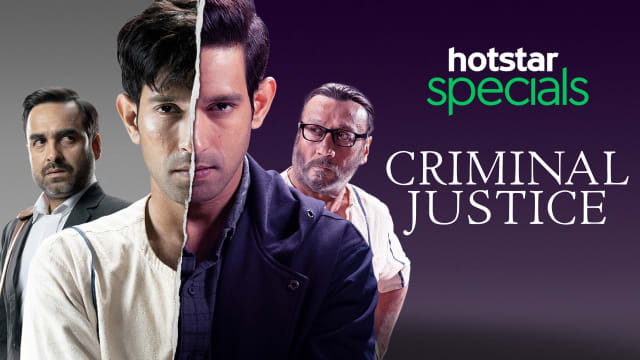 Made in Heaven (IMDB Rating: 8.3)
'Made in Heaven' is Amazon Prime's web series, which shows stories behind the big fat Indian weddings.
Among all the actors, the performances of Arjun Mathur and Sobhita Dhulipala were complicated and compelling. The web series is a collaborative creation of director Zoya Akhtar and Reema Kagti.
The plot narrates the lies and betrayals of holy matrimony. The nine-episodes were divided between four directors, and each episode tells a unique story that makes this web series one of the best.
Aarya (IMDB Rating: 8.7)
'Aarya' is a nine episodes season with each episode of almost an hour. The series is directed by Ram Madhvani and Sandeep Modi. The story is an adaptation of the Dutch series "Penoza."
The story follows Aarya (Susmita Sen), playing a wonderful homemaker to Tej (Chandrachur Singh) and living a happy life with their three kids. Aarya is a devoted wife, caring mother, and a wonderful daughter and sister.
Sushmita Sen playing the titular character 'Aarya,' is quite story-driven. The entire web series is revolved around the life of Aarya after her husband's demise how she carries herself circling with threats and distrust of her people.
Sushmita Sen brings grace and sophistication to the character of Aarya. Her dialogues and the way she carries herself throughout is eye-pleasing and reminds me of the fact how dignified she is.
It felt great watching Sushmita Sen performing onscreen after almost a decade long. Her comeback on a crime suspense-thriller web series "Aarya" now streaming on Disney + Hotstar is an impressive, mature, and balanced web series.
Permanent Roommates (IMDB Rating: 8.6)
'Permanent Roommates' of TVF is perhaps the best Indian web series I would say. It is a humorous, entertainment-friendly, fantastic narrative and character portrayal by the actors.
Actually, it is TVF who came up with the web drama series format in India.
Sumeet Vyas got his popularity by playing the character Mikesh in Permanent Roommates.
A guy who is in a long-distance relationship for three years with Tanya (Nidhi Singh). The story is carved beautifully about two adults who are in love and how the two evolve under various silly yet life-changing circumstances.
Read More:
Mirzapur 1 & 2 (IMDB Rating: 8.5)
Those who have watched Amazon Prime Video's 'Mirzapur' season 1, for them here is the good news that season 2 is coming soon.
For them who haven't yet watch the series, they should watch 'Mirzapur' for its story and thrilling performances by the actors.
Mirzapur is a power-filled character portrayal of two brothers Guddu (Ali Fazal) and Bablu(Vikrant Massey) who gets entangled in the bloodshed, power-hungry crime world. Pankaj Tripathi and Divyendu Sharma have both excelled in their performances.
Hence, Hindi web series has marked its success with the popularity of Mirzapur in Amazon Prime Video too along with Netflix.
Inside Edge (IMDB Rating: 8.0)
Amazon Prime India has brought to its viewers 'Inside Edge' which is a web series that focuses drama and thriller on commercial cricket. There are two seasons, the first season was quite impressive to watch with a few interesting characters.
Mumbai Mavericks is the team that surrounds with controversies related to drugs, money-laundering, and political issues. As I said, the first season was something new to watch, but the second season was pretty flat.
Although there were a few twists and turns in the climate, it couldn't help delivering an ineffective season.
Still, I would say you can watch especially season 1 for the performance of Richa Chaddha, Vivek Oberoi, Aamir Bashir, and Angad Bedi.
Director Sujoy Ghosh's attempt to work on a thriller Hindi web series with Netflix has raised the bar of Indian thriller web drama series.
A haunted folklore tale which is not scary of course but has definitely a haunted factor.
The story set in Goa in a haunted house named Bardez Villa where the owner Madhav Matthews died. Later, his granddaughter Jenny moves back to her ancestral home with her family but ever since they moved, weird incidents are happening.
Now, what happened or how? All these answers are there in the ending episodes. So, if you are brave and don't get scared of watching haunted stories, 'Typewriter' is for you, and it is still streaming on Netflix.
Bang Baaja Baarat (IMDB Rating: 8.0)
'Bang Baaja Baarat' which is YRF's contemporary rom-com web series that narrates the urban relationships. It is more like a movie in several episodes featuring Ali Fazal and Angira Dhar in the lead.
It has every element of humor, tragedy, climax, romance, drama, and songs. Great performances by all the actors and consistently able to reach its broad audience in India.
YRF's web series represents the whole point of marriage narrated in a witty and hilarious manner.
If you have missed watching this web series in any way, you can still enjoy watching it on YouTube.
You can check out: Best Movies to Watch on Amazon Prime Video 2020
Best Hindi Movies on Netflix India that You Can Stream Now
Asur (IMDB Rating: 8.5)
Asur is an incredible crime-thriller Voot Select Hindi web series that I have watched a few weeks ago and I was thrilled while watching it.
The plot revolves around three main character Arshad Warsi, Barun Sobti and the killer's mythological ideology on killing pattern. It is a great script that has blend the Indian mythology and psychology of the killer.
The two forensic detectives who are unable to trace the killer's instinct and pattern of killing through out the country.
Asur is one of the best crime-thriller Indian web series that will spook you enough with violent deaths, suspense, intensity in story-telling and a calculative use of Indian mythology in the narrative.
Avrodh (IMDB Rating: 7.6)
You must have watched the Indian Bollywood superhit movie "Uri," which is based on the Uri incident.
But if you watch the web series "Avrodh," you will come to know the truth of how the government and the armed forces together fought against terrorism and avenge the killing of 19 soldiers in Uri at the Army base camp.
The web series is streaming on SonyLIV that retells the story of the terrorism act in Uri. Each actor in the series has given their best to make it one of the best web series.
Amit Sadh has made an entry into the story quite late, but his character as a special task officer, Major Videep Singh, is the best to watch.
Overall, as an audience, I can say, the movie URI stands nowhere in front of Avrodh.
Undekhi (IMDB Rating: 8.1)
"Undekhi" is a crime thriller web series on SonyLIV that tells the story of an incident that took place at a wedding of a rich gun-wielded family who controls the local.
The story opens with a police officer looking for two tribal girls of Sunderban and landed in Manali, where the murder took place.
The story is likable because it shows the truth and all the actors have performed well. Surya Sharma, as Rinku, plays the main part who is the foster son of Papaji and makes sure to hide the entire incident under his whims.
Despite telling a quite gripping story, the ending hasn't turned out to be what expected.
Still, I would recommend a good watch.
Your Honor (IMDB Rating: 7.3)
The web series "Your Honor" is also streaming on SonyLIV; it tells the story of an esteemed judge in Ludhiana, Punjab, who relinquishes his moralities to save his young son involved in a hit and run case.
You may find the series a bit dragging, playing the same plot repeatedly, an affluent father saving his son from the crime. What's surprising is the ending of the web series, and it will change your view about the series.
Maharani
Recently I finished watching SonyLIV's original web series 'Maharani' starring Huma Qureshi, Sohum Shah in the lead. It is a political drama with outstanding performances and screenplay.
From the beginning, it has a thrilling element in the performance of 'Rani Bharti' played by Huma Qureshi. I have never seen her performing in such an amazing way. She has completely grabbed the attention with her Bhojpuri dialect.
The web series has prominently tried to show the political chaos and corruption in Bihar.
Though it has got an IMDB rating of 7.5, I genuinely think it deserves more and is a must-watch.
Grahan (IMDB Rating: 8.6)
Disney plus Hotstar has launched a new period drama series 'Grahan' based on the real incident in Punjab after the assassination of Prime Minister Indira Gandhi.
The story is divided into two parts – present and past, which link the story together. The plot presents a sensitive story of the past with a touch of a sweet love story.
I really like the series because of its fine screenplay and performances. There is not a scene that I felt unimportant while watching. Each scene relates the other, and the amalgamation of past and present is just perfect.
Tripling (IMDB Rating: 8.5)
TVF's Tripling is a popular web series that features Sumeet Vyas, Amol Parashar, and Maanvi Gagroo in the lead as three siblings. It has two seasons.
The story of 'Tripling' about three siblings who are not so close to each other neither do they stay in touch, but whenever they meet, they are siblings who had each other's support always.
All three characters are different from each other and have different stories of life. How they end up together in the circumstances and how their road trip takes them to the solutions has been told in the series of episodes.
Although, I felt season 1 was far better than season 2 in terms of story, freshness, and narrative. Season 2 got repetitive and lacks the newness in the story which makes it an average watching season.
Amazon Prime's new Indian series 'The Family Man' tells the story of an Intelligence agent where Manoj Bajpai who played the lead role of Srikant Tiwari. He is a married man juggling between his 'trouble in paradise' status and the work he loves to do.
Srikant is the best agent in the team but, at one incident, his decision killed three innocent young college-goer. He is trying hard in cracking a case that involved a major terrorist attack in India.
Like always, Manoj Bajpai shines with his natural acting prowess and the witty dialogues.
The narrative and cinematography both are superb. 'The Family Man' is capable of keeping you hold till the end. There are not much action sequences involved like any other spy movies. But Manoj Bajpai kills with his dialogues itself.
The story evokes a sense of patriotism and realization of how effectively our intelligence department is working to keep the nation safe from any threat.
'The Family Man' is a newly added Hindi web series on Amazon which you must watch.
Little Things (IMDB Rating: 8.3)
You must be aware of Filter Copy, mostly seen in Facebook videos. The season1 of Little Things first came out on Filter Copy and later the season 2 was streaming on Netflix.
The web series 'Little Things' is about a couple of Dhruv and Kavya who are in a live-in relationship, amidst various problems of life they are trying to find happiness in little things.
The series narrates through them that how happiness can be found in little things. To express love for each other, it doesn't have to be grand even through small things you can find love for each other in a relationship.
A story with a clear vision and message to the youth who are in love is worth your time to watch.
Check out the review of Season 3 of Little Things
The Aam Aadmi Family (IMDB Rating: 8.5)
Yet another web series of TVF's has proved that they are the unique content creator in the web series business.
The Aam Aadmi Family tells a story about how unconditional love binds a family together always. It is about the Sharma family, who is the typical Indian middle-class family, each member of the family represents the generation and mindset of the generation.
Each episode and character carry some humor which makes it a light-hearted web series giving good vibes and an excellent familiar gesture.
Pitchers (IMDB Rating: 9.2)
A web series that is focused around four friends who leave their current job for starting their own start-up. The series was released in 2015 and ever since it remained one of the best-watched web series of TVF.
The series of episodes narrates what these four friends are going through and facing challenges to gain funding for their start-up.
I believe 'Pitchers' is every entrepreneur's favorite web series because they could relate themselves with the four characters. Netflix has recently released a similar startup based movie 'Upstarts', you can also watch this.
Apaharan (IMDB Rating: 8.4)
With the rising trend of web series in India, ALTBalaji is another video streaming platform, which is trying to make its position in this competition.
Unlike Mirzapur and Sacred Games, ALTBalaji has also brought its original crime thriller web series named 'Apaharan.' The story features Arunoday Singh, Mahie Gill and Nidhie Singh in the lead. The interesting thing about this web series is its narration, which is extremely spellbinding and mysterious.
The web series is a 12 episode long, and at some places, it may remind you of the Mirzapur and Sacred Games, if you have seen both.
Mahie Gill, as usual, had delivered the best performance. Although her screen presence is less, she was as amazing as Arunoday Singh, who played the character of a corrupted cop.
Duranga (IMDB Rating: 8.0)
Duranga is a hindi web-series adaptation of a Korean drama 'Flower of Evil' featuring Gulshan Devaiah and Drashti Dhami in the lead.
I really loved the suspense-crime-thriller story. However, it is a remake, not the original,, but the adaptation has been spot on.
The performance of Gulshan Devaiah is top-notch. It is his best performance till date. The editing part of the entire series is neat, leaving no gaps between. There isn't a single scene where I found myself getting bored.
There are lies, layers of stories, suspense in the plot. In the second season, it is expected we will get to see Amit Sadh in the lead. That character will tell another sub story.
Overall, a much better and a deserving web series to be watched.
Netflix's original series 'Selection Day,' which is an adaptation of the book of the same name by Arvind Adiga, is a story about two brothers, their obsession for cricket, abusive father who controls them, and their struggle to live in Mumbai.
Selection Day has two seasons. Season 1 shows the core theme of the series, which is the journey of two brothers along with their arrogant and abusive father landed in Mumbai in quest of becoming the next best batsman.
Season 2, focuses more on the emotional and mental state of both the brothers and how desperately both want to get rid of their father. The sexual interest of Manju has also been explored in season 2.
If you haven't watched this beautiful series, you can stream on Netflix now.
Breathe (IMDB Rating: 8.4)
Breathe is one of the best Indian web series on Amazon Prime, featuring Madhavan, and Amit Sadh in the lead. You can put this web series in the category of 'thriller.'
The series is extremely gripping with both the actors give outstanding performances of their life.
Amit Sadh, who is an alcoholic cop and emotionally broken by the death of his only daughter.
On the other hand, Madhavan plays a doting father whose 6-year-old kid is suffering from lung disease. His kid is in the long waiting list of getting a new lung from donors in the hospitals.
The story narrates at what length a father can go to save his kid, even murder. Madhavan played Danny's character with much precision.
This is one of the unusual web series to watch, which will make you believe that Indian content creators are pushing their imagination really high.
Laakhon Mein Ek (IMDB Rating: 8.3)
Amazon prime's 'Laakhon Mein Ek', both the season, has a very relatable and compelling story to tell.
In season 1, the story of an average student who has been pushed to fulfill his parents' dream of becoming an IITian.
Although this is not what he wants still, he has to do it by all means. A lot many young students will relate to this story.
A series of episodes that capture the mental and emotional status of a teen who is forced to go for IIT coaching far away from his home and landed into the world of rat-race. Confusions, chaos, pressure everything makes him vulnerable.
Season 2 has also brought to the audience a challenging and harsh reality story about the medical conditions and ill-equipped facilities in the remotest villages of our country.
Here, in this story the character Dr. Shreya tried her best to make some changes in the small village medicine clinic but soon she realizes how the members of the elite classes toy with the lives of the villagers.
Both the season has successfully delivered a message to the audience through the story and characters.
Breathe: Into the Shadow (IMDB Rating: 8.1)
Last night I watched "Breathe: Into The Shadow," and I am convinced that it is yet one of the best Indian web series to watch. Abhishek Bachchan shielded the entire 12 episodes of the season perfectly well with his brilliant performance.
The theme is similar to that of "Breathe" season 1, a father's desperation to go to any extent to keep his kid alive and protected.
But in this series, there is a touch of mythology and psychology and both balanced together in the plot.
The story is meticulously written, keeping the character Avinash played by Abhishek Bachchan in mind. The only link that I found with season 1 is the character of Amit Sadh. His performance is compelling and engaging enough to love and sympathize.
The small role that Nithya Menen got she nailed that too. Overall, the series has an element of surprise, drama, suffering, and mythology.
Panchayat (2020)
Nestled in the heart of rural India, lies a gem of a web series that brings forth laughter, nostalgia, and an honest portrayal of small-town life – 'Panchayat'. Created by TVF (The Viral Fever), this delightful show effortlessly captures the essence of Indian villages in a refreshing and endearing manner.
'Panchayat' revolves around Abhishek Tripathi played by Jitendra Kumar, who finds himself reluctantly appointed as the secretary for Phulera village's panchayat office. We witness his transformation from an ambitious city-dweller to a humble and pragmatic young man. This evolution is beautifully portrayed throughout each episode.
We see his journey brimming with witty banter between him and his quirky colleagues, hilarious encounters with villagers, and moments that resonate deeply with anyone who has experienced life outside bustling cities.
What sets 'Panchayat' apart is its ability to beautifully balance humor with genuine emotions. The writing strikes a chord through relatable storytelling while addressing social issues prevalent in rural areas.
Cubicles (2019 –
Among the plethora of options out there, one gem worth exploring is the Indian web series titled 'Cubicles.' This delightful show, created by Dice Media, offers a fresh perspective on office life and explores relatable themes that resonate with audiences worldwide.
The show brilliantly captures the trials and tribulations faced by young professionals striving to find their place in today's competitive work environment.
From ambitious dreams to unexpected challenges, each character's journey is beautifully portrayed, allowing viewers to connect deeply with their experiences. Set within the confines of office cubicles, it paints an honest picture of what it feels like to navigate through ambition, dreams, frustrations, and personal desires while trying to strike a balance between work and life.
This series expertly tackles various societal issues prevalent in modern India. It delves into topics such as gender equality, mental health struggles, workplace politics, and personal sacrifices made in pursuit of professional success. If you haven't watched it yet, you should stream it now.
Ghoul (IMDB Rating: 7.1)
Netflix's Indian horror web series is terrifying, gruesome, and dark that narrates Arabic folklore. Radhika Apte as Nida Rahim is the star of the series and has the majority of screen presence.
Ghoul is thrilling to watch with an intense mysterious set, a labyrinth-like high-security prison. The fierce background music suffices to create the suspense and a horrifying element in the series.
It has an old-school approach, basically a zombie monster who attacks everyone in the security prison except Nida. A familiar ending although but still worth watching series on a frantic Saturday night.
Ashram 1 & 2 (IMDB Rating: 8.0)
Prakash Jha's digital debut web series "Ashram" is binge-worthy. Prakash Jha loves telling stories about caste, class, politics, and corruption.
In Ashram, an MX player original series packs a bunch of solid themes and plots with some great performances. It is a nine-episode series that explores the truth of a Godman and his criminal activities.
After a decade seeing Bobby Deol onscreen and delivering a good performance of a Godman feels good. The entire cast of the series gave their best performances.
It shows how in India, people put their blindfolded belief in the Godmen's feet, and they take advantage of that. The role of Babaji, played by Bobby Deol, is the poor's messiah and oppresses the people's sector.
His friend and the most trusted man Bhopa (Chandan Roy Sanyal), clear off all the dirty activities of the Ashram by killing and torturing the victims.
Girl in the City (IMDB Rating: 7.6)
Web series 'Girl in the city,' narrates a very ordinary tale of a girl who comes to Mumbai to fulfill her dreams and passion. It is a very relatable story.
Tons of girls' lands in Mumbai from small towns of India with dreams in their eyes. Some get success on their path of the journey, and some keep fighting as long as they can.
Actor Mithila Palkar is that girl in the story, who represents the tale of thousands of girls in the city. There are several twists in the plot like her daily struggle in the city, her love life, her friends, and her work-life challenges.
Overall, 'Girl in the city' is pretty much what you will love to watch on YouTube.
Fathers (IMDB Rating: 7.4)
TVF's web series 'Fathers' is a witty and beautiful series that revolves around three fathers who are retired and pretend to be cool to get mingle with the new generation.
They try to cut off being a strict father and becoming a cool father who sits and drinks with their son, discussing startup and many more things.
The three fathers are trying to break free the stereotypes of what the Indian fathers stand for.
All three actors Brijendra Kala, Gajraj Rao and Atul Srivastava are fun to watch. It is great to see that TVF is trying to create something new with each web series.
So, if you are open to humor 'Fathers' is a must-watch web series from the list.
Conclusion:
Almost all the video streaming platforms have a lot of web series, but you have to sit and search for which one to watch.
So, I have compiled this list of Indian web series that I believe are the best and have got a great response from the audience and critics too. It is an attempt to save time and energy.
If you have something in mind that you want me to add on this list of best Indian web series, please feel free to let me know.