Are you wondering what best Hindi web series to watch on Amazon Prime Video and Netflix?
If you are looking specifically for the Hindi web series, then I would say no other streaming platform can beat Amazon Prime Videos and Netflix. Both have a wide collection of Indian movies and TV shows, including some regional films.
I have a subscription to Amazon Prime Videos, Netflix, ZEE5, Disney+ Hotstar. Among all, I prefer Netflix for international and Hollywood content and Amazon Prime Videos for Indian content.
The Covid-19 pandemic has changed several things on the planet. It has also changed the digital world entirely. Production houses are now focusing on and changing their business model to release their films and series on different OTT platforms.
I will discuss in another blog how the digital world is drastically changing. Now, let's dive into the 13 incredibly good Hindi TV series on Amazon Prime Videos and Netflix to watch.
Best Hindi web series to watch
Panchayat (IMDB rating: 8.8)
The new TVF series is the best Hindi web series on Amazon Prime Video is one of the best web series of 2020 that I have enjoyed watching.
In the eight-episode web series city boy, Abhishek Tripathi takes up a government job as a Panchayat Sachiv (Secretary) at the Phulera village.
He finds it extremely difficult to adapt to the village lifestyle and to thrive on clearing CAT exams so that he can go away from the village and his current job.
The supporting cast Raghuvir Yadav, Neena Gupta, and Chandan Roy performed well and balanced the story. There are moments of laughter, political satires, and untouched rural eccentricity that has been beautifully displayed in the web series.
Jitendra Kumar's versatility can be seen through his performance. Earlier, he has also played several characters where he has proved his skill.
Now that whenever we see him onscreen, we expect something different from his character.
The Family Man (IMDB Rating: 8.6)
Manoj Bajpai in the lead plays a middle class married man who is a one of the finest spy of his department.
The spy thriller web series begins on a promising note where Srikant (Manoj Bajpayee) is trying to balance between his disturbing personal life and challenging professional life.
With a compelling story and noteworthy performances, the series became one of the most viewed TV shows on the OTT platform.
What connects me with the story is the essence of an everyman story. There is no exaggeration or tried to show an unrealistic world in the narrative. The story makes you feel sympathetic to Srikant.
There is an excellent portrayal of nationalism demonstrated in the series: Srikant and his subordinates who does everything for the national security.
Overall, it is worth watching one of the best Hindi web series on Amazon Prime.
Mirzapur (IMDB rating: 8.5)
Mirzapur is a gangster drama one of the best Hindi TV series on Amazon Prime Videos, where you can have a glimpse of outstanding performances and engaging story.
Pankaj Tripathi, Divyendu, Vikrant Massey, and Ali Fazal are the main characters that help build the story.
The story follows about an influential family in the eastern Uttar Pradesh Akhandanand Tripathi (Pankaj Tripathi) who runs illegal opium and gun business.
There is another family where two ambitious brothers Guddu (Ali Fazal) and Bablu (Vikrant Massey), turn out to have the head and manage the business for Akhandanand. There is a lot of chaos, bloodshed, and gang war happens. It is an extremely compelling web series to watch.
Well, I am waiting for season 2 to come through there isn't any release date announced.
Paatal Lok (IMDB rating: 8.7)
The Amazon Prime Original series 'Paatal Lok' is released on 15th May, and it is gaining popularity for its interesting thriller story. 'Paatal lok' has a stunning story that is executed dramatically.
A dark portrayal of the Delhi Police investigation on four accused murderers that opens several hidden chapters of the 'swarglok.' The prime protagonist of the series is Hathi Ram Chaudhary (Jaideep Ahlawat), a flawed character who unfolds the truth connecting several prevalent issues.
The best fact about 'Paatal lok' is the direction and the tight narration. There is not a moment when you will feel dragged. Also, it has touched several prevalent social issues of our society through the four accused character.
The issues that we read or hear going around at some corner of our country like mob lynching, caste discrepancies, northeast provocation, biased religious judgments, and inefficiency of Indian media.
Indeed, a must-watch web series for you too.
Breathe (IMDB rating: 8.4)
Amazon Prime Original series 'Breathe' is an amazing Indian suspense-thriller web series that tells the story of a desperate father who goes in a frenzied state of murdering selected people to save his son's life.
Kabir (Amit Sadh) from the crime branch department is investigating the case, but he too is a broken character. R Madhavan as Denzel ha the best performance to watch.
He is calm, terrific, dangerous when murders yet the most loving father, and he could go to any length to save his suffering son.
There is actually two plot, one involves the father-son story, and the other involves a deprived alcoholic cop. Their path crosses only during the investigation.
It has indeed a mind-gripping storyline that will keep you hooked in.
Made in Heaven (IMDB rating: 8.3)
Zoya Akhtar and Reema Kagti's Indian web series 'Made in Heaven' was premiered on Amazon Prime Videos in March 2019 that depicts the lives of Tara and Karan, two wedding planners who run their agency 'Made in Heaven.'
How the lives of both the individual get intertwined with each wedding planning contract, they get.
In a nutshell, 'Made in Heaven' talks about the high society glam wedding and their fragile urban relationships.
With a tint of drama, emotions, betrayal, lust, and homosexuality, 'Made in Heaven' is worth watching and quite engaging wen series to watch.
Both Sobhita Dhulipala and Arjun Mathur performed impeccable along with Shivani Raghuvanshi, who played the middle-class small-town girl Jaspreet Kaur who wants to achieve something in the glam world.
Inside Edge (IMDB rating: 8.0)
'Inside Edge' is a sports drama Hindi TV series that keeps you engaged throughout with the exciting storyline and climax in both the season 1 & 2.
The plot is based on the fictional Indian Premier League, where Mumbai Mavericks is a star team with a star batsman Vayu who has anger issues. There is a villain ad the mastermind of corruption Vikrant Dhawan (Vivek Oberoi) and the political shrewd person 'Bhaisaab' who happens to control the entire league.
Season 2 is more interesting than season 1, with characters' stories getting more complex and exciting to watch.
I won't say it is the best series ever, but among the top 10 Indian web series, you can watch it.
Malgudi days (IMDB rating: 9.5)
Can you see the IMDB rating?
It's a great classic and the best Indian TV show to enjoy watching with your kid. Malgudi Days is based on the works of R.K Narayan. The series of episodes tell stories of the people living in a small town Malgudi where the center character is Swami.
Swami is a curious and fun-loving young boy who enjoys playing with his friends and loves adventures.
Watching Narayan's 'Malgudi days' always invokes nostalgia. It reminds me of my simple childhood how I used to enjoy watching the show with my parents every Sunday on the National Doordarshan channel.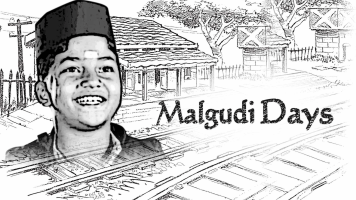 Laakhon Mein Ek (IMDB rating: 8.3)
Amazon Prime Videos Original series 'Laakhon Mein Ek' has two seasons, and both the seasons have a beautiful storyline.
Season 1 of 'Laakhon Mein Ek' tells the story of an average student who is forced to get into IIT. He is unable to take the pressure and wishes to run away. The six episodes of season 1 have beautifully shown the struggle of Aakash and his frustration.
Season 2 talks about the character Shreya (Shweta Tripathi), a medical practitioner who is made in-charge of a cataract camp in a village.
Soon, she has to face odd situations; she realizes how there is a lack of medical supplies in the village government hospitals.
Season 2 heavily talks about the medical crisis and inefficiency in India.
Best

Hindi Web Series on Netflix
Sacred Games (IMDB rating: 8.7)
Netflix's original 'Sacred Games' is a story of two people Ganesh Gaitonde and Sartaj Singh. The two seasons of Sacred Games is a fascinating and engaging storyline.
The season 1 deals with the story frame where Ganesh Gaitonde (Nawazuddin) a most-wanted gangster, gives a tip to Sartaj Singh, a police officer about something big is going to happen in Mumbai city.
Two stories are going on parallelly, with background stories of both the characters—season 2 deals with how the Sartaj Singh follows the leads and discover the truth.
Nawazuddin, as Ganesh Gaitonde, Saif Ali Khan, as Sartaj Singh, both the prominent actors has given the best performance. Apart from that, Sacred Games has a solid and crisp storyline that keeps you interested throughout the season.
Nobody has ever imagined that Sacred Games will be liked in India so much.
Delhi Crime (IMDB rating: 8.5)
Hindi web series 'Delhi Crime' is a chilling, brilliantly executed, and well-directed series that depicts the most horrible Nirbhaya gang-rape case of Delhi.
A heinous crime that shook the country entirely and questions the safety of women in India along with the role of Delhi police to solve this case.
Shefali Shah, as DCP Vartika Chaturvedi, the in-charge of this case in the film, has acted phenomenally.
The Netflix Original series is dark, unapologetic, and shows the harsh realities of how the case was being solved under an understaffed, ill-equipped, and not well-paid Delhi police force.
Delhi Crime is an intense web series to watch on Netflix.
Ghoul (IMDB rating: 7.1)
Netflix original 'Ghoul' is a horror web series based on the Arab folklore ghoul, and it is also the second web series from Netflix India after the much successful Sacred Games.
The story follows when a new prisoner is being held at an abandoned military detention center, and weird things started to happen. Nida Rahim (Radhika Apte), a newly recruited interrogator, finds out the truth about his father when she digs more.
I wouldn't say 'Ghoul' is an extremely scary or the best Hindi web series to watch, but it did offer something new and unconventional plot. I am expecting season 2 to get release soon on Netflix, but there hasn't been any news of that.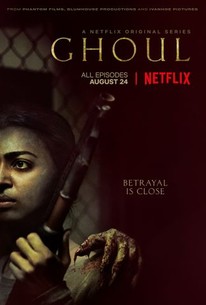 Selection Day (IMDB rating: 7.3)
Netflix's original series 'Selection Day' has a great story about two brothers trained by their abusive father in cricket to join Mumbai's under 19 cricket team.
In season 1, the story follows the journey of two brothers Manju and Radhe, who come to Mumbai with a dream to follow and got admission to a school under sports quota.
Season 2 talks about other issues predominantly with Manju, who is unwilling to play cricket rather than wants to pursue the field of science. The relationship between both the brother gets intensifies in season 2.
The character of Mohan (Rajesh Tailang) father of both the boys has been shown more clearly about his ambition, and greed for money that he fulfills through his boys.
Overall, Selection Day is a good Hindi TV series to watch on Netflix.
Also Read: